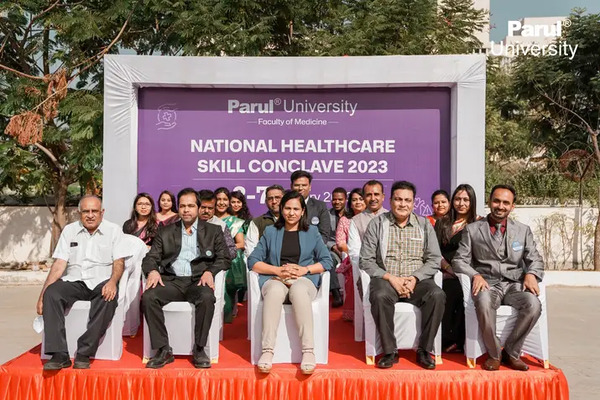 With the bid of developing a sustainable and skill intensive healthcare system PU's Institute of Medical Sciences and Research National Healthcare Skills Conclave 2023, successfully brought this agenda to fruition by facilitating skill development among its medical students from across the nation. The faculty of health sciences organised the seven day healthcare conclave at the new simulation centre Pragya. This grand event drew over 1200 participants from various institutions across the country. The academic event provided participants with the opportunity to learn from 50 National Experts, resource persons, and clinicians from various specialties.
The occasion served as a platform for instilling new conceptual learning methods for modern India by creating a highly effective atmosphere for skilling, reskilling, and upskilling. Students participated in over 34 workshops, which include basic surgical skills, laparoscopy, advanced airway management, ECG, first aid and triage, regional anaesthesia, basic cath lab procedure, hospital infection control, mechanical ventilation, emergency trauma management, and many others, with the goal of developing problem-solving skills and collaboration.
"I received the perfect set of instruments, and the expert was very patient; she gave everyone plenty of time to practise their hands, and I am excited to use this technique on my patients ", shared MBBS intern Aaman Kapadia. The hands-on clinical and practical skills training provided at the conclave aimed to help students become independent practitioners while also encouraging them to plan for their future. In addition, the interactive sessions provided novel learning methods that effectively bridged the gap between theoretical knowledge and clinical practice. "We are happy to host the Nation's biggest Healthcare Skill conclave, a flagship event of Parul University. In the new world, where skills are the new currency for employment, this conclave provides the biggest platform for skilling, reskilling and up-skilling" shared Dr. Hemantkumar Patadia Principal, Dean at the Institute.
Furthermore, the event was a success in terms of incorporating advanced technology into clinical practice and assisting students in understanding emerging diagnostic and therapeutic modalities. The event witnessed the gathering of various healthcare professionals from different specialties at the Western region's State of the Art Advanced Skills and Simulation Centre. "Pragya, the simulation and skills centre housed at the University campus, has emerged as one of the leading centres for health science training and capacity building, which i believe to be the need of the hour in today's and this conclave successfully met that need", said the University's Medical Director, Dr Geetika Patel.