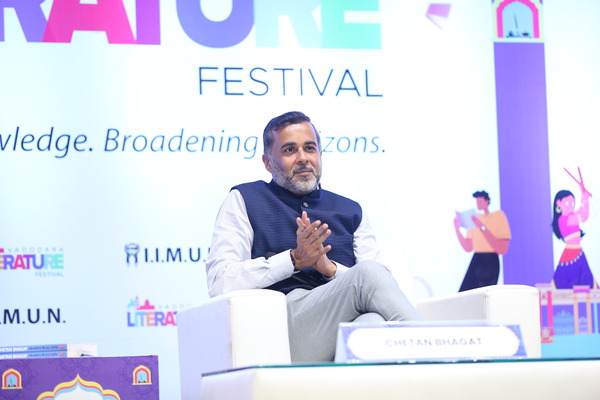 Day two of Vadodara's literature festival has paved the way for yet another exciting experience for the hundreds of literature lovers who have been gathering at PU's campus. After a unforgettable inaugural ceremony by the renowned actress Shabana Azmi the students had their minds, notepads ready to acquire more knowledge from personalities such as Chetan Bhagat, Chef Pankaj Bhadouria, Irfan Habib, Sadhvi Bhagwati Saraswati, Prince Manvendra Singh Gohil, Ramya Subramanyam. The festival presented a series of power packed sessions bringing a diverse mix of genres, authors, poets, activists on one stage from fiction to biographies, travel blogs to cook books among others. The students of the Faculty of Liberal Arts were among the key beneficiaries of this platform, with other attendees from various parts of the city and State who present for the literature festival.
Among the authors was Chetan Bhagat, a man of many titles including Indian Author, Columnist and YouTuber who has also been named in Time magazine's list of the worlds most influential people and an alumnus of IIM Ahmedabad. During his professional journey he has received the Young Alumni Achievers Awards in the Art Entertainment category by IIMA. The author has made enormous contributions in the global literature industry through his published books which include One Night Call Center, Points Someone, The Mistakes of My Life, States, Revolution, and Half Girlfriend, among others. Additionally, he is also an Author of non-fiction books such as What Young India Wants and Making India Awesome. Chetan has shared the award for Best Screenplay for Kai Po Che at the Filmfare Awards with other screenplay writers. He is also a popular motivational speaker and has spoken at more than 800 organisations across 100 cities. Adding on to the long list of his achievements is the CNN-IBN Indian of the Year award which he bagged in the entertainment category.
The Liberal Arts students of PU were once again privileged to be in the presence of Chef Pankaj Bhadouria, a winner of MasterChef India Season 1 and the first to have an official MasterChef cook book. She is an author of top-selling cookbooks her reputable work has landed her the award First Ladies, which is given by the Ministry of Women Child Development. Through her passion and interest in academia she has Founded the Pankaj Bhadouria Culinary Academy that offers professional and certificate courses to amateur chefs. In addition, she is a brand ambassador of MasterChef Travels, Cox Kings worldwide as well as the face of brands such as Knorr, Taaza Tea, and HUL, among others. Her work has crossed the borders of the nation, as she was chosen as an Ambassador by the Spanish government to promote the use of Olive oil in India. Moreover, Chef Pankaj is also a host of several cooking TV shows including Course with Pankaj, Chef Pankaj ka Zayka, and Just Like That, among others.
Another of the prominent personalities at the festival is Sandhvi Bhagwati Saraswati is a well reputed Director of the world-famous International Yoga Festival at Parmarth Niketan Ashram. During her life journey she has touched many lives making her a Rishikesh recipient of the Lifetime Achievement Award by US president Joe Biden for her commitment to voluntary service. She is also a Managing Editor of the Encyclopedia of Hinduism as well as an author of the best-selling memoir, Hollywood to the Himalayas: A Journey of Healing and Transformation. Sandvi has been contributing immensely in the global sphere, she has been serving on the United Nations Advisory Council.
The author of many bestselling books and an IIT & IIM alumnus, Mr. Chetan Bhagat recently attended the city's first ever Vadodara Literature Festival. He was very vocal and candid during this interactive meet-up. On being asked how he decided the premise of the book he writes, he replied, "All art should come from the heart. Even in literature, if you want full satisfaction, it should come from within. For a real artist, it is not just only about being big or earning money, it is about what inspiration comes from the heart." The Master Chef Season 1 Winner, Entrepreneur, Brand Ambassador, TEDx speaker, and Author of the first official MasterChef Cookbook, Miss Pankaj Bhadouria was also seen attending the city's literature fest. She advised the young students to always read the label and see the ingredients before buying any product. If they don't understand any ingredient, she advised them to not buy it. She said, "There are healthier options available. It might cost you 2-3 bucks more but that's the price you pay for a healthy lifestyle."
Sadhvi Bhagawati Saraswati, who has recently written the book "From Hollywood to the Himalayas," addressed the audience while attending the VLF. Talking about her journey, she said, "I was a Stanford graduate and a PhD student when I first came to India. It was supposed to be a 3 months break from my studies in this country. Ideally, I had everything that makes a person happy. A good house, a great car and the best of education. But I wasn't happy from within. All those material things don't really make a person happy. And when I knew more about the Hindu culture and spirituality, I fell more in love with this place and I knew I had to stay here."
As part of the festival activities, Prince Manvendra Singh Gohil an Indian Prince, son of Maharaja of Rajpipla was also present at Vadodara Literature Festival. He is a founder of the charitable trust, Lakshya Trust, which won the Civil Society award in 2007 for its contribution. His influence is not only limited to India however he has appeared as a guest in The Oprah Winfrey Show for more than three episodes. These prominent figures came together to share insights with the students of PU and put emphasis on the use of literary works for impacting the society and making a difference.
Beyond these key personalities, the festival also featured prominent figures such as Sonal Ved, food writer, Aakash Ranison, sustainability author, Anuja Chnadramouli author, Satyarth Nayak, screenwriter, Ashok Kumar Lahiri Indian Economist. It also went on to include personalities such as Harjeet Khanduja an author, Sundeep Singh, accenture, Dr Jaishree Sharad, celebrity cosmetic dermatologist, Parmesh Shahani, Inclusion activist, Tamal Bandopadhyay, Indian Business writer, Rishi Piparaiya, Mentor Capitalist, Prachi Garg an Indian Author who took the centre the stage. A vast number of pressing topics of the age which include Sustainable Eating: Promoting Environmental Stewardship, Inking Inspiration: The Art of Storytelling,Bhashaon ka Sammelan: Dil ke Desh ki Kahaniyaan were discussed on the panels and students were not only inspired, but they were also able to gain insightful thoughts and new perspectives from these personalities during the literature festival.