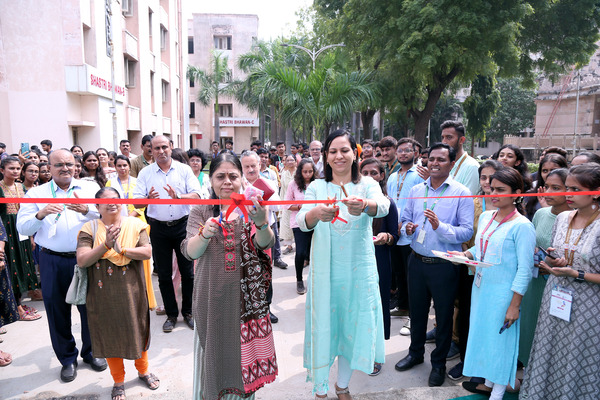 Impacting lives through the heart of service has been part of the values carried by the Vadodara based PU. And to inculcate these good habits amongst its students and members, the university recently organised SAHIYAR, a Gram Hatt Exhibition cum sale fair for women. The exhibition provided platforms in the form of stalls to showcase diverse products made by the women groups, women artisans and women organizations.
Mrs. Meetaben Joshi, Additional Collector and Director of DRDA, Vadodara and Dr Geetika Patel, Medical Director and Managing trustee of PU inaugurated the programme by cutting the ribbon and by lighting the lamp. The stalls that were exhibited included products such as as Khakhara Chevdo (Farsan), Various pickles and chutneys, Halfbeen(Addad) Items, Coconut's Laddu, Pandas and Sweets, American corn, Panipuri, Bakery products, Sanitary pads, Home decoration items, Bagasara's items, Cutlery items, Divda, Brooms and soap and phenyl.
​​​​​​The university through its Social Responsive Cell has reached great milestones in providing support and needs in society. Some projects that are currently being undertaken by the cell include SRC implemented 'HUNF' - Meals on Wheels project, Gyandhara Mobile Library, Apni Pathshala, Computer Literacy Campaign, Street School, Flat Foot Screening programme, THELI – Women Livelihood project, Remedial Coaching classes for children and Unnat Bharat Abhiyan project supported by Ministry of Education, Government of India in surrounding villages. In addition, different welfare schemes to the needy people in surrounding villages are also being conducted.
"The University believes in equality for all and changing lives in the community has been one of the strides we have been proudly contributing towards", Dr Geetika Patel, Medical Director.