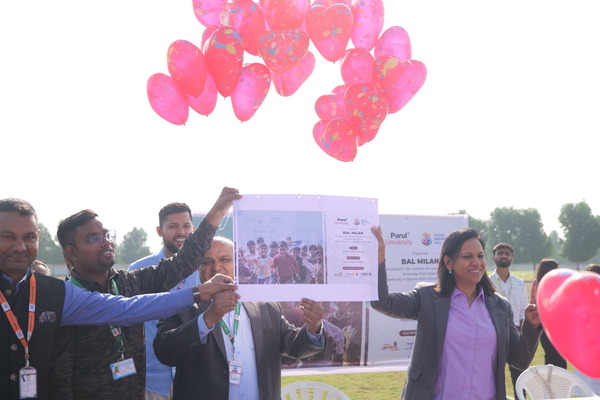 BAL MILAN is a platform for rural school going children to showcase their talents in Sports and Cultural programme for a healthy and active lifestyle. The objective of this BAL MILAN programme is to take a step towards promoting the poor and vulnerable children for good quality education and make them independent citizen of our country. Social Responsive Cell had organized BAL MILAN for children of Waghodiya taluka
"Children are the hands by which we take hold of heaven."
The event was a grand bash as around 200 children from different schools around Waghodia participated in this exclusive event. Our honourable chairperson of SRC, Dr. Geetika Patel Ma'am, was the chief guest for the program.
Various sports and cultural activities, such as the 100 & 200 meters running race, solo and group dance, and singing performances, took place where the tiny tots got a platform to showcase their talent.
The main motive behind organizing this event is to promote the vulnerable students for their character development, providing them with good exposure and making them feel independent.
Various well wishers, such as Krishna Coconut, Naira Hospitality, and Rotary club Club of Baroda Sayajinagari, sponsored the Bal Milan program. Along with these, many hands came forward to support our initiative.
At the end the children who won the competitions were appreciated by the medals, trophies and certificates Resp. Provost sir, pro VC sir, Registrar sir had also grace the occasion. They also encouraged children by her motivational speech.
We extend our sincere gratitude to all our Honourable Chairperson for her utmost guidance, our beloved sponsors who came forwards for the social cause, and the entire team of SRC, as without these people we can't even imagine the success of our event.