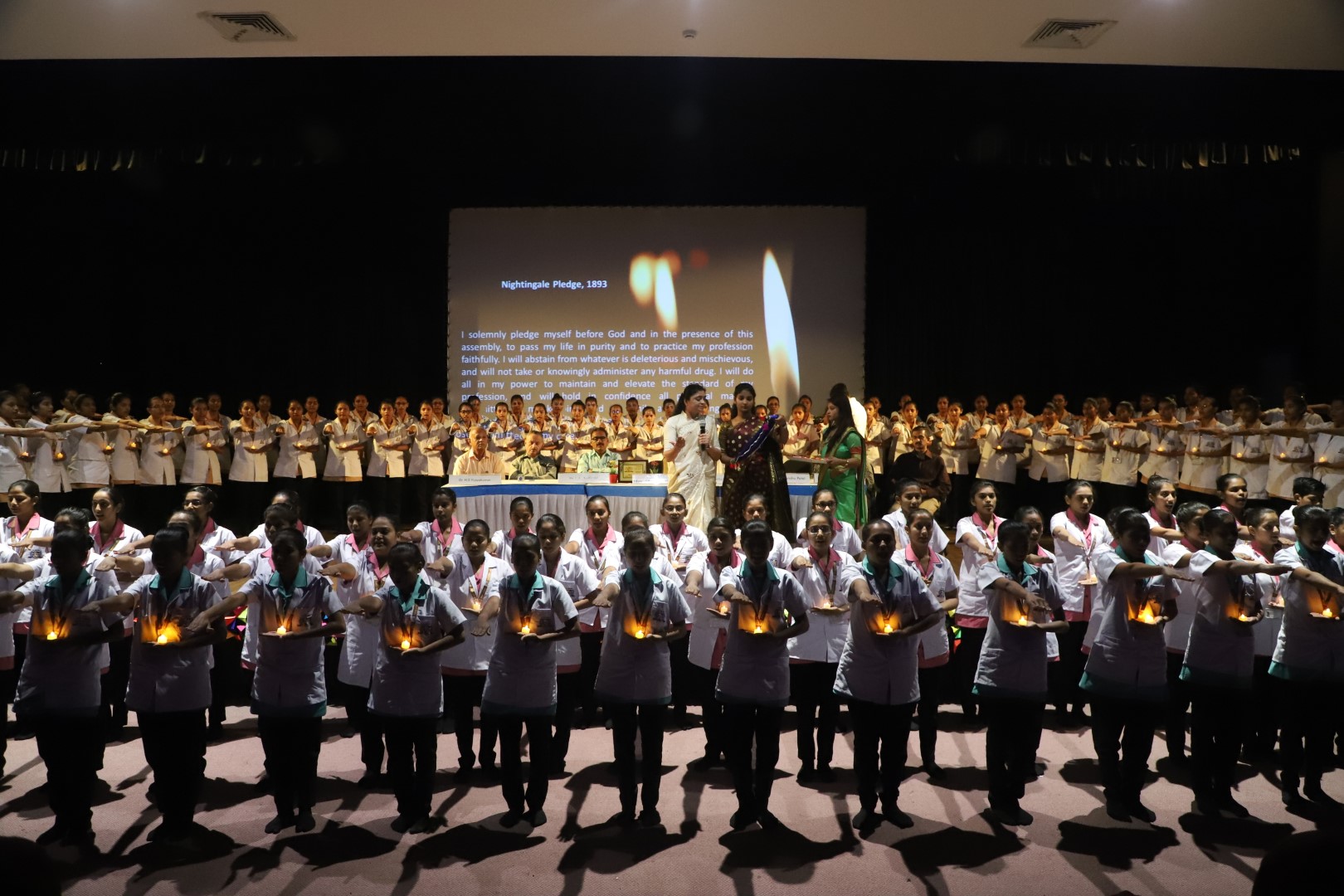 Standing as a symbol of kindness, compassion and a caring desire to bring patient healthcare to light, city based PU conducted the sacred nursing lamp lighting ceremony. Acting as the point of initiation for the first year students into the nursing fraternity, this highly sacred ceremony brought together some of the elite medical practitioners to inspire and motivate the students to believe in the impact of their noble practise. The ceremony was held on the 16th of March, with the joint efforts of the Parul Institute of Nursing and Parul Sevashram Hospital. The platform featured some of the University's esteemed administrative members, including Parul University's Medical Director Dr. Geetika Patel, along with the Paramedical Director Dr Komal Patel.
Florence Nightingale, known as the founder of modern nursing, stands as an international model and a pillar of nursing excellence, and this significance came to life for the nursing students of PU, this past Saturday. The lamp lighting ceremony, a practise symbolising, the lamp which Mrs Nightingale used while treating the wounded soldiers during the Crimean War, while at the same time managing and training, young women, the noble practise of nursing. Such of her practises were of great heights in bringing honor and respect to the nursing fraternity, this is why conducting this ceremony is by all means an auspicious and highly essential part of any nursing student's life.
As part of the lamp lighting ceremony the 140 students, 70 being from BSc nursing, 20 being from ANN along with 50 GNM students also went on further to take part in oath taking. Symbolizing their allegiance and devotion to the nursing profession and the need to serve the society and the nation at large. Such a sign of determination has led to them showcasing their passion for nursing beyond boundaries, through taking part in various exchange programs in Poland and Switzerland. The Parul Institute of Nursing, has continued in making countless efforts towards impacting the society through various health camps and social welfare activities, all designed to assist the students in relating and blending with the society.
"Nursing is not just a profession, it is a service to the society and a service to the nation and as PU, our continuing commitment is to ensure that we produce students who are equipped with the ability to serve. This lamp lighting ceremony is by all means an essential part of the profession, which is sacred towards ensuring the devotion and commitment of the students towards their practise", said Dr Komal Patel, during the opening of the ceremony. Parul University continues to promote the healthcare of the society by ensuring a well trained elite class of students.