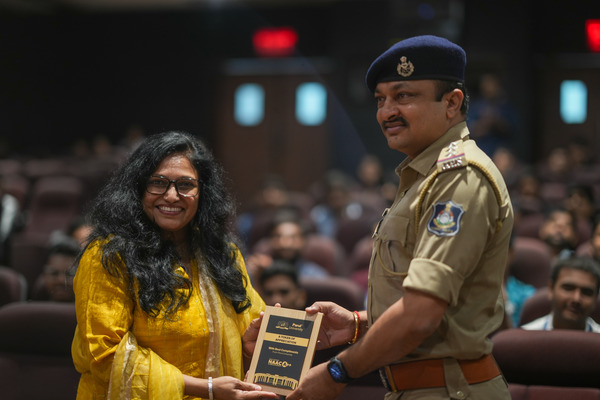 Mobilizing the impact of education and innovation to provide solutions that ensure a safer and well protected Vadodara city has been one of the key goals behind PU's innovation efforts. In this year's edition of the idea generating and solution finding platform Vadodara Police Hackathon 2023, Vadodara Police in collaboration with the University's Parul Innovation & Entrepreneurship Research Centre, brought together young innovators and start-up founders on a common platform for developing various solutions to challenges faced by the city's police. To nurture and guide the students during this 3-day event, the hackathon featured some of the senior members of the police as mentors. The mentors included, Shri Hardik Makadia, Assistant Commissioner of police, Cybercrime, Vadodara, Shri Haresh Chandu,Prob Deputy Superintendent of Police, Vadodara Rural, Shri. P R Jadeja, Police Inspector, Waghodia, Shri Krunal Patel, Police Inspector, Local Crime Branch, Vadodara Rural, among others.
A total of 24 problem statements were presented by Vadodara police from which the participating students had to develop various technologies which can be utilized to solve such problems. The statement areas include, road safety tool, speech emotion recognition tools, detection of criminal activities through CCTV, missing child identification, digital stamping software, anti-drone systems, health monitoring system for elderly communities among other areas. From statements relating to social challenges, to those to assist in policing and security work, the students have been working tirelessly to provide the best solutions. The selected winning solutions will have the opportunity to secure a prize fund as well another opportunity for start-up funding of up to 10 Lacs.
Additionally the another group of mentors for this event also included Shri J.M.Chavda Police Inspector, Special Operation Group, Shri B.N.Gohil, Police Sub Inspector, Reader To respected Superintendent of Police and Shri C.M.Kanteliya Police Sub Inspector, Parole-Furlough Squad from Vadodara Rural. The Vadodara Police Hackathon organized by Vadodara Police, Rural Division in collaboration with Parul Innovation & Entrepreneurship Research Centre, Parul University, is a launchpad to boost smart innovation in the Police. The goal of a hackathon is to foster disruptive innovation through the use of creative problem-solving techniques. 90 teams from across India participated in the Vadodara Police Hackathon and took on predetermined challenges involving new ideas, business strategies, and procedures, and they pushed themselves to the limit to produce concrete outcomes.
"It is very significant to engage our young innovators in technologies that actually create value and make an impact for the society. This hackathon is yet another step that we have taken as a university towards creating a better and safer Vadodara all through the support of the city Police," said Mr Jay Sudani, the University's Director of Parul Innovation & Entrepreneurship Research Centre.