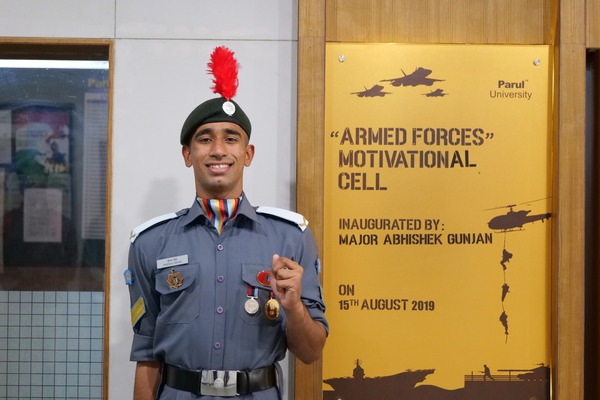 In a matter of pride, Vadodara-based PU student Dheeraj Singh will join the Indian Army through the NCC Special Entry segment with AIR 15 owing to his excellent performance and exemplary achievements in the NCC. He was amongst the participants in Prime Minister's rally on 28 January 2021. In addition, he is a proud recipient of the Prime Minister's baton on being adjudged as the "Best All India cadet (SD) Air Wing
This achievement comes from the successful inception of a dedicated Armed Forces Motivational Cell at the campus of PU– which motivates, guides, prepares and trains students to pursue a career in the Indian Armed Forces. Since the inception of this cell, Dheeraj Singh was a part of the first-ever batch of NCC at the University. The NCC in the PU campus provides an ideal landscape to enhance and accelerate the overall development of students as cadets who are ready to serve the nation. Guidance and motivation from the Armed Forces Motivation Cell have played an important role in his selection as the Best Cadet in Gujarat Directorate at the 2021 Republic Day Camp, believes Dheeraj.
"We at The Armed Forces Motivational Cell aim to guide and groom students for a glorious career in the Armed Forces by offering counseling, training, and grooming sessions. Students like Dheeraj, when they come up to us, we give personal attention to them so as to help them effectively juggle academics while preparing for these exams," said Retd. Commander Sanjay Sharma, Director of Armed Forces Motivational Cell and ex-Indian Navy officer.
According to Dheeraj, achieving this feat wouldn't have been possible without the support from the faculty members and his peers. He started his preparations during his third year of engineering and went on to graduate with a B.Tech degree in 2022. He says, "I am immensely grateful to the University for being so supportive during my entire journey. Without their support and motivation, I wouldn't have been able to balance studies and Army exam preparations."
In addition to his achievement, he was felicitated by the hon'ble PM Shri Narendra Modi at the Republic Day Parade, making him the first cadet in the history of Gujarat to be awarded the Best Cadet by the PM, which is a matter of state pride. "It gives me - and the university - immense pride to witness Dheeraj's achievements. Apart from academics, we at PU encourage students to explore a myriad of career opportunities while they are still studying which puts them two steps ahead of their peers. The Armed Forces Motivational Cell is a true testament to that. I am confident that he will be making the nation and the university proud as he gears up to join the Indian Army," said the University's President Dr. Devanshu Patel.