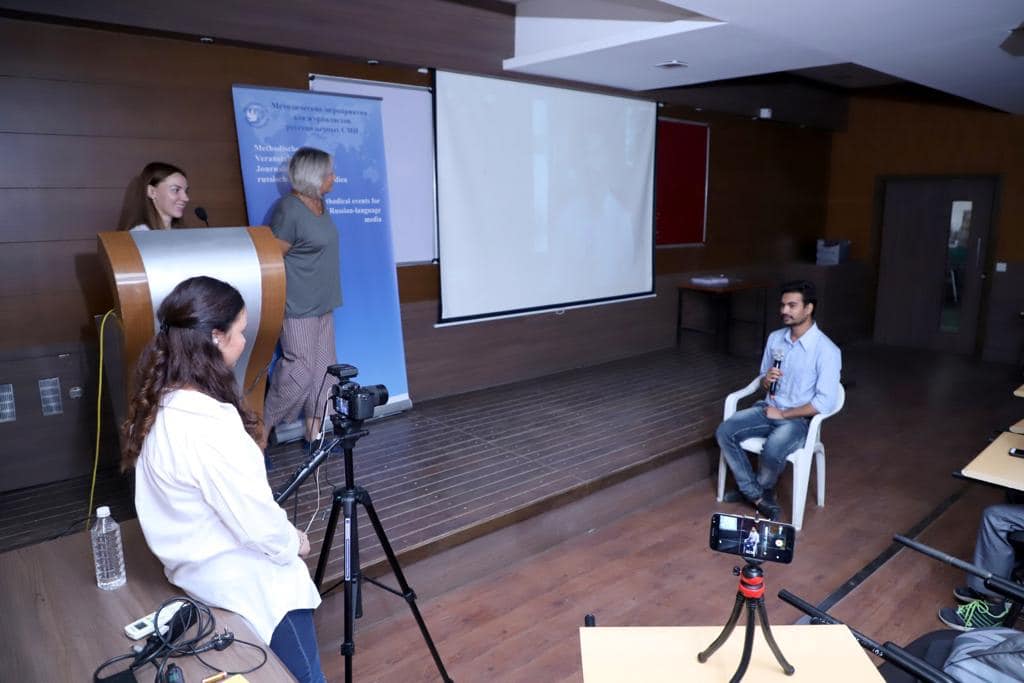 Extending its cooperation with People's Friendship University (RUDN), Moscow, Russia City Parul University organized a three day workshop on ''Methodical events for the Russian-language mass media journalists and journalism students''. The event is designed to expose students of the Mass Communication and Journalism Department to the world of television reportage.
Ms Irina Vakulovskaya, Head of Distance and Interactive learning laboratory for distance learning department under Vice Rector, RUDN, Russia talked extensively about the recent phenomenon of 'fake news' trying to explain the severity of such news in social, political, economic and cultural context and also shared her professional expertise on how to identify fake news and how to cross-check facts in order to provide up-to-date, authentic and unbiased news to the public. Vakulovskaya lectures focused on issues relating to what television journalism is for Russian society and the profile of a television journalist of Russia.
To give a hands-on experience for electronic media, Ms Tetiana Bilousova, Film Editor for Distance learning Department, RUDN, Russia took a session that focused on how to handle camera in a real world news environment. Explaining what to do and what not to do within the industry, Ms Bilousiva shared the technicalities of video producing and editing in the context of journalism. Bilousova and Vakulovskaya guided the participants through the basics of news reporting for the TV news media. They showed, in practical, the aspects of posture, personality and self-defined image of a journalist while reporting.
One of the Professors of the University's Mass Communication and Journalism Department, Mrs. Bilwada Kale-Baxi said, "The training sessions helped students to interact and learn from international experts, helping them get a wider view of how journalism works on an international level. The combination of sessions by a journalist and a film director provided the students with a hands-on training of handling the camera, setting the frame and being on-screen too. Ms Iuliia Kuznetcova, University Teacher and Interpreter, RUDN, Russia translated the ongoing lectures into English for the students.
It is encouraging to see that the people of Russian Federation are standing by the side of the Indian people not only in a strategic or geopolitical aspect as they have done historically. But also, they have been assisting the Indian People in assuming control in technical areas of the society by means of assisting the government and private institutions like Parul University in engaging and developing an effective skilled human resources sector in India. This collaboration between Parul University and People's Friendship University stands as a true testament of that, said PU's President, Dr Devanshu Patel.