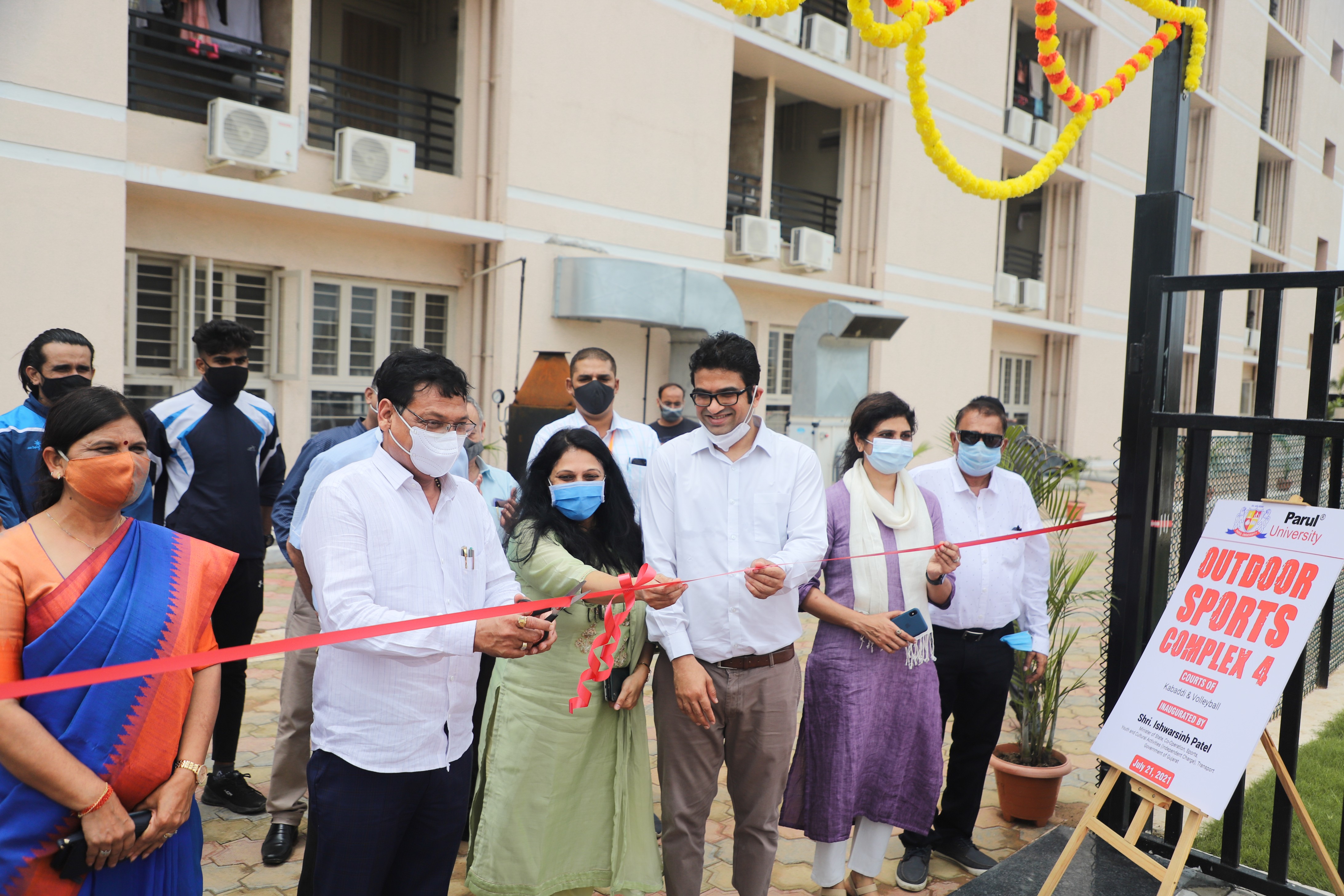 Honourable Shri Ishwarsinh Patel visited PU to inaugurated the University's newly developed sporting facilities. The Honourable Minister of State, Co- operation, Sports, Youth and Cultural Activities and Transport, Government of Gujarat, graced the University's campus to kick start the students' sporting experience at the newly constructed facilities. Adding on to its sporting amenities, PU developed a total of 5 volleyball courts, 5 badminton courts, 2 kabaddi courts and 5 net practice pitches for cricket. Through these additional facilities, the University has further extended its campus vibrancy to include a unique and a vibrant culture for sports and recreation across the campus.
The ceremony's respected guest brought to the campus, a true spirit of sportsmanship as his presence coupled with his remarks to the gathering, brought a ray of inspiration to the sporting girls and boys of the University. Sharing on the importance of sports during the students' learning journey, Shri Ishwarsinh Patel remarked " I am so happy that Parul University gives so much importance to sports, not many Universities have this kind of commitment." He went on to commend the University for having all its sporting facilities in proximity to the student residential hostel, as it will ensure an adequate distribution of sporting resources amongst all the students and the maintenance of social distancing standards.
With the mental and physical health challenges which have been created due to reduced student activities and recurring school closures, sporting has become more of a necessity for every student. It is with this understanding that the University has been making continuous efforts to revive and promote a culture of sports amongst its students. During the ceremony, Honourable Shri Ishwarsinh Patel felicitated all the sportsmen and sportswomen of the University who have made an outstanding display of talent and commitment in the numerous games and competitions on a District, State and National level.
To conclude the ceremony, the students of PU got the opportunity of interacting with the Honourable Minister who shared his light of motivation with the students. While responding to a question from the audience concerning his life journey, Shri Ishwarsinh Patel shared his earlier work experiences working in a sugar factory and how his commitment and dedication coupled with a spirit of teamwork resulted in its success. " I am very pleased to see the students of Parul University back at the campus after a long time. We have taken the initiative of developing many of such sporting facilities throughout the campus to provide a comprehensive student experience . In the future we are coming up with a horse riding sports complex which will be having all horse related activities along with water sports. As a University we are truly honoured to host Honourable Shri Ishwarsinh Patel at our campus", said the University President, Dr. Devanshu Patel.