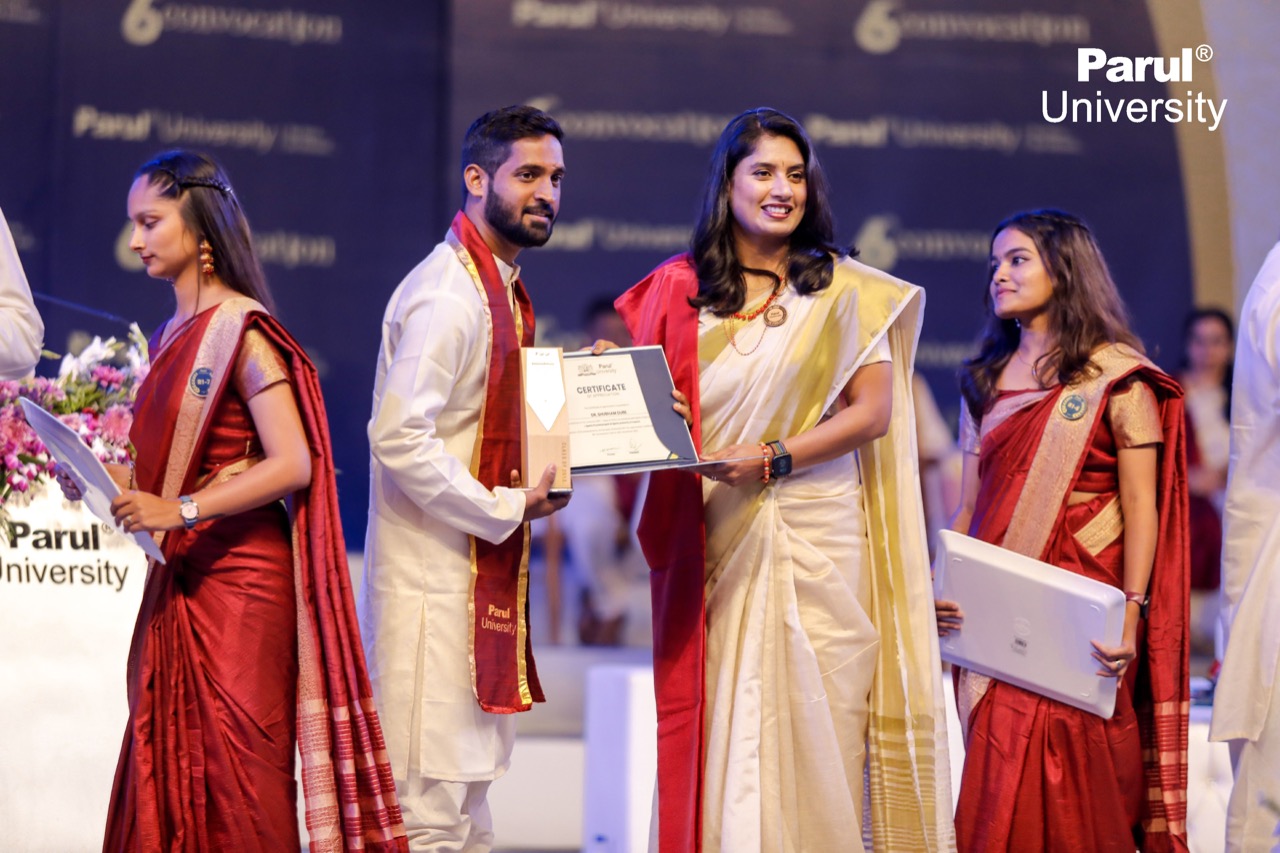 Dazzling lights and a heavenly decorated stage marked the beginning of the end of PU's batch of 2022's academic journey. The university welcomed its graduating students into new chapters of their lives by hosting the 6th convocation on its 150 acre campus. Dignitaries, family, and friends from around the world gathered to see the 6,468 students receive their certificates for demonstrating diligence in pursuing their dreams. Over 10, 000 guests who were present during this inspiration-filled evening of the 25th, were treated to a memorable celebration. The grand procession led by Mithali Raj and Sonu Sood signalled the start of the 6th convocation ceremony at the University's Vadodara campus. Along the honorary guests were Dr.Devanshu Patel, President, Dr. Amit Ganatra, Provost, Dr.H.S.Vijayakumar, Pro Vice- Chancellor; Dr.M.N.Patel, Advisor, Prof.Manish Pandya, Registrar and Hon'ble Members of the Board of Management and the Governing Body.
​​​​​​Mithali is known as one of the greatest women cricket players of all time, former captain of the Indian Women's cricket team, multiple record holder, and recipient of several national and international awards. Sonu Sood, a recipient of the United Nations DP SDG Special Humanitarian Action Award, is a man with a true heart for humanity. He is also a popular actor in Hindi, Telugu and Kannada Film Industry; as well as a Film Producer. For many of the students, having two icons who continue to inspire them to grace the ceremony was a dream come true.
​​​​​​The graduating students hailing from multiple faculties were eager to walk across the stage, including diploma, bachelors, post graduate courses from various streams of engineering, applied sciences, commerce, computer applications, applied sciences, commerce, arts, fine arts, library science, health administration, public health, vocational studies, pharmacy, physiotherapy, ayurved, homoeopathy, nursing, architecture, agriculture, social work, design, law, management, business administration.
To serve as a true testimony of the students' outstanding commitment; each year, the university bestows gold medals upon deserving students. A total of 74 students received gold medals as well as 24 certificates for their unwavering dedication to their studies. Overmore, 1 award was given to a successful startup and to 7 alumni for their contributions to their illustrious professional careers.
The university's gold medalists have positioned themselves upon greater dimensions in the industry. Chandera Disha Ashok is currently employed as a Medical Laboratory Technologist at Shree Mehta Sarvajanik Hospital in Una. Sanjay Singh is successfully advancing his career at the Piesat International Information Technology. Krishna Somrupa works as a Formulation Scientist at Bharat Parenterals Ltd. Patel Prashant Gajendrabhai is an apprentice at Sun Pharmaceutical Industries. Amisha Panchal Yudiz Solutions Limited As a Junior Web Developer (NET). Many other students are pursuing advanced degrees at prestigious institutions in India and around the world. Viraj Raulji is currently pursuing higher education in Canada, and he has also published a research paper in an international journal. Rashtriya Raksha University is where Samta Manish Zaveri is pursuing his master's degree. Some of the gold medalists are working in fields that have a positive social impact. Many more are studying for the UPSC Exam and serving their country
The students put an an emotional dance performance to pay tribute to the struggles and hard work for Mr. Sonu Sood. While addressing the students during the speech, he said "there is nothing as problems or unsuccessful efforts, you just have to believe you can do it. There's nothing impossible if you have faith in yourself."
Padma Shri awardee and ace cricketer, Mithali Raj provided valuable insights during her interaction with the students during the speech. She said "failures an important part of life. They are the other side of success and we should learn to embrace them."
President of PU, Dr. Devanshu Patel during his Presidential address said "your values come from your roots and it comes from what's inside of you." Giving great advice to students, he further added, "when you fall, never fall down but always fall forward and keep moving forward. Because the more you fail, fall, and move forward, the closer you'll get to succeeding."