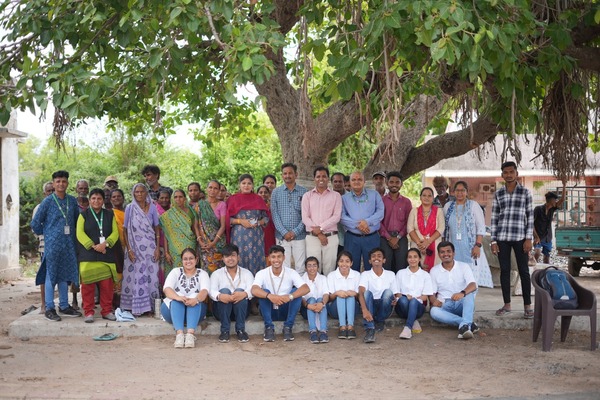 Social Responsive Cell, PU dedicated to community welfare, is delighted to announce the expansion of its flagship initiative, HUNF - Meals on Wheels, to Vyara village. This initiative aims to address free, delicious and nutritious food to vulnerable senior citizens and elderly in need. By delivering freshly cooked meals directly to the doorsteps of those in need, the program ensures that nutritious food reaches the most vulnerable members of society.
Till now HUNF – Meals on Wheels project was operated in 4 villages around Waghodia Taluka, namely Ambali, Limda, Patiyapura, & Madheli. But today on the auspicious occasion on 'World Elder Abuse Awareness Day', Social Responsive Cell extends the HUNF Project to another village in Waghodia Taluka named as 'Vyara' village.
With the extension of HUNF - Meals on Wheels to Vyara village, Social Responsive Cell aims to make a significant impact on the lives of individuals and families facing food insecurity in the area. This expansion is a testament to the organization's commitment to addressing social issues and fostering a healthier, more inclusive society. The meals provided through the HUNF initiative are prepared with utmost care, adhering to high standards of hygiene and nutrition. Each meal is thoughtfully curated to meet the dietary needs of individuals across golden-agers. The program not only focuses on combating hunger but also emphasizes the importance of healthy eating habits and overall well-being.
Till now Social Responsive Cell successfully catered the need of more than 47 helpless elderly individuals providing them with more than 18,090 freshly prepared meal at their doorstep. Furthermore, we believe prioritizing their overall well-being above everything else. Hence, we also organize health camps for them where skilled healthcare professionals volunteered their time and expertise to serve the elderly population.
The Social Responsive Cell acknowledges the generous support and contributions from various local businesses, community members, and volunteers, without whom this initiative would not have been possible. Their dedication and commitment to improving the lives of others exemplify the true spirit of community service.
"We are thrilled to extend our HUNF - Meals on Wheels initiative to Vyara village as this will be platform to provide a sustainable lifestyle to the elders of Vyara Village." said Dr. Geetika Madan Patel, Vice President of the PU. Further, she mentions, "We believe that everyone deserves access to nutritious food, and by expanding our reach, we hope to make a positive impact on the lives of individuals and families in need. We are grateful to all those who have supported us in this endeavour and look forward to working together to create a healthier, more resilient community." Social Responsive Cell encourages individuals and organizations interested in supporting or volunteering for the HUNF - Meals on Wheels program in Vyara village to get in touch via their website or contact the organization directly.