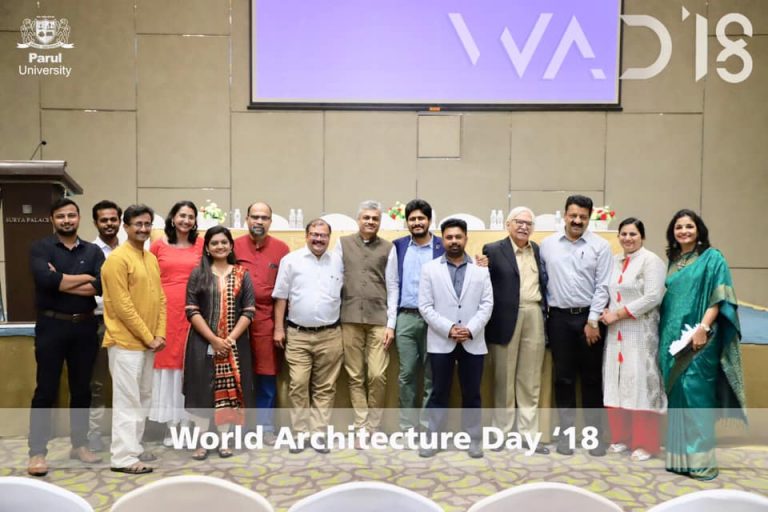 On the occasion of World Architecture Day, city-based Parul Institute of Architecture and Research in association with Indian Institute of Architects (IIA) organized a networking session with the Architects of the city on various topics related to the current affairs of the architectural world. Ar. Sanjay Goel, Director of Ludhiana Smart Cities Ltd, Chairman of the Punjab IIA Chapter and a Vijay Ratna Awardee and the Indira Gandhi Sadbhavna Awardee during his talk said, " The focus now is on Role of Architecture & what we as an Architect could contribute to the development of the city considering the momentum of Smart Cities" while talking about his experience as a smart city project leader. He also discussed the "Smart city mission in India " and how the country is moving forward on the path of increasing Smart Cities, and how Architecture plays an important role in building up Smart Cities, ultimately leading to Smart India.
Adding to this, two young architects of Vadodara City held a debate and discussion session with the students. Ar. Priyank Shah, Consultant for Vadodara Smart City Ltd shared his first-hand experience on the same. He also shared his experience leading the Street Furniture Campaign for VMC wonderful initiative of upcycling the scrap for public use. The utmost important and sensitive issue of Vishwamitri river was being discussed by Ar. Pooja Jaiswal Raval who has been researching and working on this issue since the time she was a student of MSU. Her Presentation was surrounded on Water Sensitive Urban Design & Need of an Ecological framework for the Urban water bodies in the context of Vishwamitri River & Vadodara city. " Both these topics are vital to initiate the momentum towards smart city", mentioned Ar. Bhagyajeet Rawal, the dean of Faculty of Architecture at Parul University.
Furthermore, under the networking sessions, the IIA Chapter discussed transitions from macro to micro, cityscape to landscape, Smart city to Smart street furniture, and scrape management to water management. Ar. Pratyush Shankar, a practicing Architect, an academician, and an Alexander Von Humboldt Senior Fellowship Awardee, addressed the students on the topic "Imagining Landscapes, and how landscapes play a significant role in the field of Architecture." His presentation gave insights on the importance of research and linking it with one's practice and how the two complement each other leading to a more meaningful contribution towards the profession. He also spoke on his research on the settlements of the great Himalaya; his passion for hiking and trekking leads him to start a club in a university he taught. This takes him to Himalayas and inspires him to do an exhaustive study of the settlements and culture. Eventually, it comes out as a book "The Himalayan Cities: settlement patterns, public places, and architecture".
"I Look forward to students at PU using the exposure received today and contribute to the smart city initiative", said Dr Devanshu Patel, President of PU.