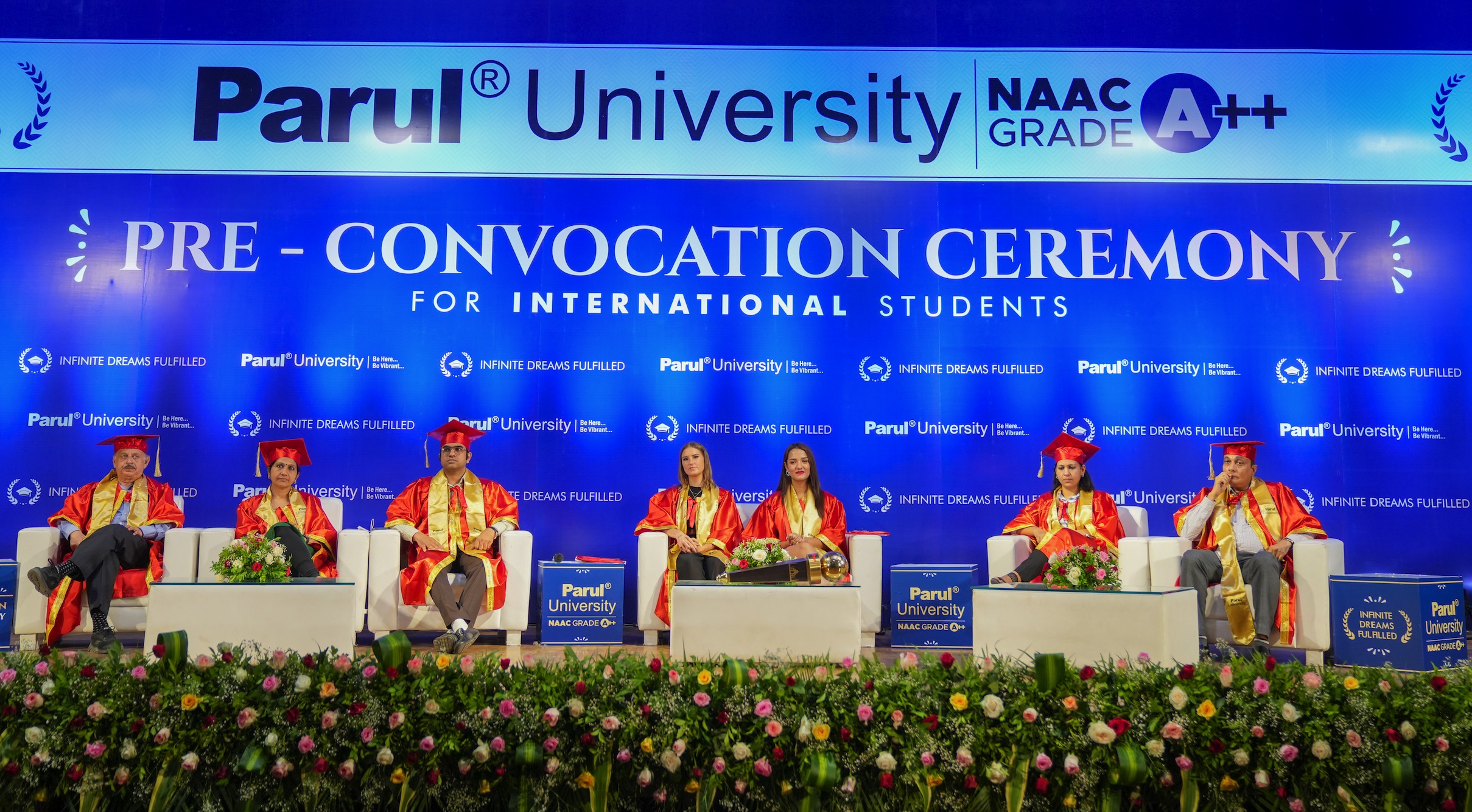 The graduation caps touched sky as PU's International graduating class of 2023 crossed the finishing line of their academic race at the University's Pre-Convocation ceremony. To award the certificates and to bid farewell to the 349 graduates of the University, were two distinct personalities who have made a name for themselves in the global film and music industry, Mrs Priyanka Karki and Ms Gemma Griffiths, who were present as the event's Honorary Guests. The graduating batch comprised of students from over 40 countries who were ready to put their countries on the map through their various streams of study including engineering, business management, applied science, law, commerce, para-medical and health sciences among other fields. PU over the years has created a unique atmosphere of cultural diversity within its campus, with students from multiple countries who have come to call India, their home.
As part of the pre-convocation proceedings, the guests in attendance, accompanied by the University's dignitaries, relaid words of inspiration and motivation to the graduates recognition of their journey and achievements. Mrs Priyanka Karki a renowned actress, model, dancer, writer, director and producer who made history by winning Miss Teen Nepal in 2005 and continued to rise to fame as an acclaimed TV host and actress. As part of her remarks to the graduating students, Mrs Karki shared that "this moment reminds me of my time in University, studying in USA, which i remember to have been some of the best days of my life", "you should treasure these days, and value this moment, and above all have faith in your ability because the journey to success is not straight, it is filled with challenges'', she added.
Another highlight of the occasion, Ms Gemma Griffiths, a Zimbabwean singer songwriter, who is known for her global reach and impact in the music industry along with her collaborations with prominent stars across the African continent. As part of her convocation address, Ms Griffiths appreciated the courage and boldness of the students of venturing across the continent to pursue their dreams. "Everyone knows that the industry which I am in is not for the faint hearted, it really takes boldness and determination to become successful. Hold on to your passion, as you out into the world, believe in yourself, I remember years ago I had the dream of spreading music across the world, and something that started out small has grown so much and I am able to share my music with everyone, everywhere, so keep holding on to your dreams.
To conclude the event, the University's President Dr. Devanshu Patel, in his presidential speech expressed his pride and appreciation for the students and their determination as he said "as you go into the world and launch your careers always remember that what matters is what you do today, what makes you different is what you choose to do right now, what sets you apart from the rest is what you choose to do with the skills and the knowledge that you taken from Parul University, and choices you make in your today is what shapes your future". The University's Pro-Vice Chancellor, Dr H.S Vijaykumar, shared the University's exploits in internationalization, being among the top in the State with over 2,500 students from 70 countries across the globe.