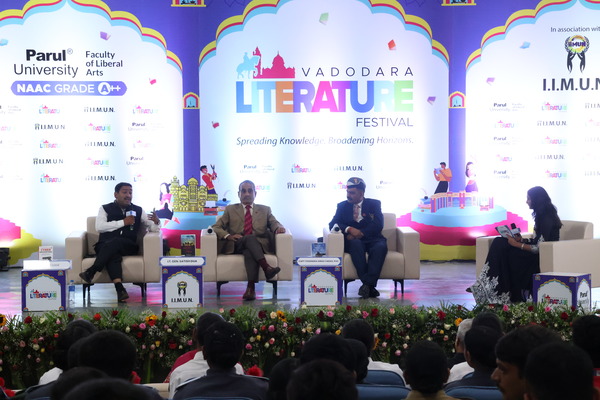 The Vadodara-based PU has been shaping the young minds of its students along with that of literature enthusiasts from across the city and state. The concluding day of the Vadodara Literature Festival was no different, bringing with it a hive activity packed with insightful thoughts and perspectives from the thought leaders of our time. As the key speakers of this edition of the festival, the speakers on the platform included prominent figures such as Durjoy Datta, Tahira Kashyap, Chef Suvir Saran, Chef. Charmaine O'bhrien, Anuj Tiwari among others. The speakers at the platform explored topics such as Food and Fitness, Promoting Environmental Stewardship, The Art of Storytelling, Indian History and Mythology and many other key areas.
The event is the flagship festival of the University's Faculty of Liberal Arts and has been made to celebrate the enriching essence of culture and literature. Being a young successful personality for the youth, Durjoy Datta has made a name for himself in the literature Industry. He is the recipient of numerous accolades including the Young Achiever by the Times of India, Crossword Book Award, and Popular Choice Award. He is the name behind some of India's best-selling novels including Someone Like You, The Perfect Us, Hold My Hand, Till the Last Breath, Of Course, I Love You, The Boy Who Loved, and A Touch of Eternity, among Others. Amongst other great works, he has co-authored several best-selling novels with numerous acclaimed authors. The list continues, Durjoy is a TEDx speaker and has hosted conferences in various colleges. Among the speakers, Tahira Kashyap Former Professor of Mass Communication at Mithibai College, Mumbai has penned several books such as I Promise, Souled Out, Cracking the Code, The Commandments of Being a Woman - which talks about her battle with breast cancer, and The Sins of Being a mother. She is a director of films such as Toffee, Zindagi inShort, and Sharmaji ki Beti as well as Quaranteen Crush for Netflixs anthology series Feels Like Ishq. In addition, she works towards raising awareness about breast cancer across the country. The speakers expressed their insightful thoughts and ideas with the audience covering a wide range of key areas.
Tahira Kashyap, who is an author, producer, and director, took to the stage of the Vadodara Literature Festival to talk about her work in the film industry, her struggles, and her life as an author. She was also vocal about breaking gender stereotypes and was quoted saying,"In any industry, empathy and compassion are two biggest tools any of us can ever have. For peace to prevail, it is important to tune the audience to break gender stereotypes." She further said, "it is an absolutely commendable job that the organisations are doing through this literature festival and these festivals need to happen more often." Further at the Vadodara Literature Festival, the renowned romance novelist of India, Durjoy Dutta took the stage to discuss love and romance in literature. During an engaging conversation with the audience, he shared his views on the contemporary romance scene and said, "Love is one of those things we have chosen to believe in. It is not a static feeling and it is not a past occurrence." In addition, he shed light on the modern-day relationship between two people and how much of it influences the literature today and candidly answered questions asked by the audience.
It is such a moment of pride for the students to be in the presence of figures who have shaped the Indian culinary world such as Chef Suvir Saran Michelin. He is a Star Chef specialising in bringing Indian cuisine to American kitchens. In pursuit of his passion, he is the author of several bestselling cookbooks such as Masala Farm, American Masala, and Indian Home Cooking. His books have ranked among the top Cookbooks in international lists raising the flag of India higher. Chef Suvir is also a Chairman of Asian Culinary Studies for the Culinary Institute of America CIA Life Coach, TEDx Speaker, and Columnist at Indian Express. A Michelin Star chef, a cookbook author, and a trailblazer who is widely known for his initiative of bringing Indian cuisine to the American kitchens - Mr. Suvir Saran was recently present at the VLF. On being asked how did he start cooking, he replied, "I found solace in the kitchen, a comfortable space where I wasn't being judged. There were people from different religions, backgrounds sitting together and eating, united. My food, the food I was cooking, united the people together sitting at the table."
Among the prominent speakers, the panelists also included personalities from diversified backgrounds, from the armed forces, police services, journalism and media, such as Lt. Gen Satish Dua Former General Officer of Indian Army, Archana Doshi, Chef, Charmaine O'bhrien, Culinary Historian, Rachna Bisht Rawat, Journalist, Tuhin Sinha, Newspaper Columnist, Probal Dasgupta, Senior Business Leader, Khalid Jawed, Novelist, Ansuman Bhagat, Best-selling Writer, Anuj Tiwari, TEDx Speaker, Anamika Mishra, Motivational Speaker, Ajay Pandey, author, Ashok Kumar, 11th Director General of Uttarakhand Police, Capt. (hon) Yogendra Singh Yadav PVC, Retired Commissioned Officer in the Indian Army Neeraj Kumar, Former Commissioner of Delhi Police, Lucky Bisht, Former NSG Commando & Spy, Aakash Ranison, Climate Change Activist, Ranjit Rae, Indian Diplomat, Rasheed Kidwai, Political Analyst.