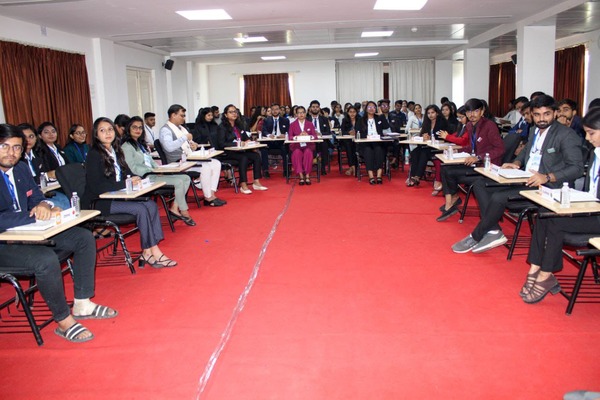 Involving the youth of today in governance and policy making has proven to be one of the greatest keys to create a better tomorrow. Research has proven that the youth possess the power and energy that propels decision-making groups to greater innovation and productivity. In alignment with this cause, Parul's Ahmedabad Homeopathic Medical College recently organized the Yuvamanthan Model G20, a unique initiative for youth to excel in public speaking, diplomacy, and strategy. The summit gathered 60 students who acted as the leaders of the G20 nations with the aim to foster pragmatic global solutions and embody the spirit of 'Vasudhaiva Kutumbakam' (One Earth - One Family - One Future) which is the theme of G20.
Key outcomes of the discussion included consensus on health, wellbeing, and sports: agenda for youth. Furthermore, the participating students also emphasized the importance of knowledge sharing among G20 nations. Taking into account the historical assumption of India in the G20 presidency from December 2022, Dr, Sharddha Rajput also highlighted the opportunity as an open door for innovative ideas to shape a sustainable and inclusive world.
The summit was graced by the presence of honorable members including Dr. Shraddha Rajput, Vice President, Mahila Morcha ( State ), BJP Gujarat - Dr. Devang Bhatt, Channel Head of Gujarat news channel GTPL - Dr. Vikas Shukla Member of Gujarat Homoeopathic Council among others. In addition, Dr Gaurav Bhatt, Principal Ahmedabad Homoeopathic Medical College emphasized the college's commitment to fostering practical discussions and nurturing essential skills in youth.
Yuvamanthan Model G20 provided a significant learning opportunity for students to develop skills like public speaking, strategy building, team building and multilateral negotiations among others and contribute to a better world. "I am much pleased to learn that the Ahmedabad Homeopathic Medical College is organizing a Model G20 - Y20 Yuva Manthan Summit. It is heartening to learn that the theme of this event is "Health, Wellbeing, and Sports: Agenda for Youth" holds great significance with an aim to create awareness, promote healthy lifestyle choices and explore the interactions between sports, physical activity and mental wellbeing among the youth. I hereby convey my best wishes to the organizing team of Ahmedabad Homeopathic Medical College, Ghuma, Ahmedabad and all participants for the success of the event and for a bright future.", shared Shri Bhupendra Patel, Chief Minister of Gujarat.
"It gives me immense pride and joy to see our youth actively engaged in discussion and initiatives that contribute to the betterment of society. By organizing this summit, you have provided an invaluable platform for young minds to come together and deliberate on critical issues pertaining to health, wellbeing and sports. The theme chosen for this event is of paramount importance in today's world, where the health and wellbeing of our citizens, especially the youth, hold the key to a prosperous and sustainable future. I am confident that the discussion and outcomes of this summit will have a positive impact on the lives of the youth and the community at large", shared MLA, Shri Babubhai Jamnadas Patel. The platform created by AHMC was commended by numerous prominent figures as being one of the ideal and best ways youth can be incorporated into the global agenda.