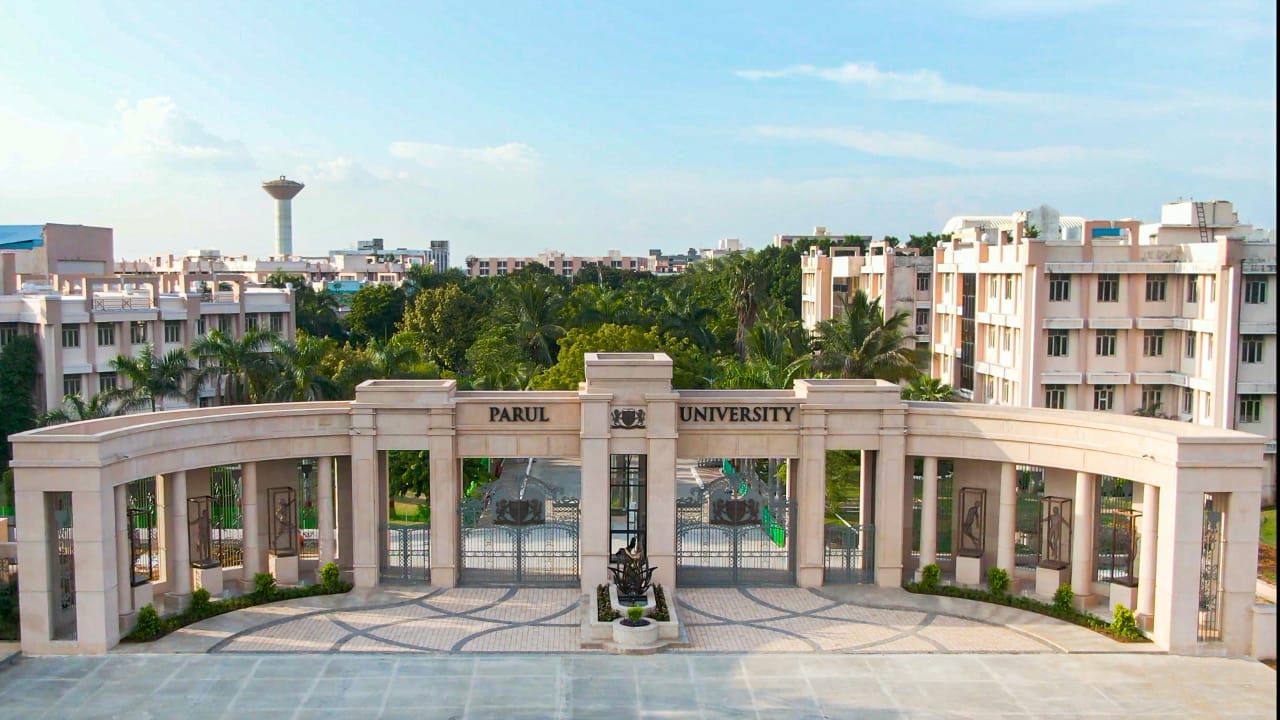 Vadodara has become home to the youngest Private University to receive NAAC A++ during its first assessment cycle. PU, was recently accredited with a National Assessment and Accreditation Council A++ grade, upon the completion of its accreditation journey which was marked by a final 3 day visit from the NAAC peer team. The University, after satisfying the required criterias and parameters for assessment, was conferred this highest achievable grade, with a cumulative grade point average CGPA of 3.55. With only 7 years to its establishment as Parul University, from April 2015, the University has been making continuous strides in higher education, which has made lasting and significant impressions on Gujarat's and India's scope of higher education through its endeavours in research, industry centrism, innovation, internationalisation, healthcare and community development.
The University has cultivated and implemented academic policies, distinctive and best practices through its salient features which include developing a multidisciplinary campus, a robust student support system, an ecosystem for building entrepreneurs, gender inclusiveness, an eco-friendly environment, a robust research policy, delivering holistic health & healthcare for all among others. As part of the assessment, feedback from the industry recruiters, current students, parents, and alumni both nationally and globally, was collected through real-time interactions with the NAAC Peer Team and formed a significant part of the cumulative score.
"This evaluation, conducted on the basis of the University's quantitative and qualitative metrics, took into account the initiatives, policies and milestones achieved from our year of establishment. As a University we have witnessed a significant trajectory of growth and development, from our digital mobilisation & IT infrastructure, to our 180 start-ups and incubators across the city and campus, this accreditation truly affirms our continuous efforts in ensuring quality education and it is truly a proud moment for us as an University", said the University's President, Dr. Devanshu Patel.
The NAAC assessment focused on the key parameters such as the University's curriculum design and development procedures, the teaching innovations employed, student teacher profiles, research promotional policies, innovation practices, extension initiatives, governance structures, healthcare services, gender equity, environmental consciousness among others. "This achievement is truly a significant milestone in the University's journey towards offering the most quality centred academic experience and we will continue reinforcing our practices and policies in maintaining this standard," said the Vice Chancellor of the University, Dr. Amit Ganatra, "This accreditation would not have been possible without the collective efforts of our students, staff members, management, parents and alumni," added Vice Chancellor Ganatra.
The University's progression in some of the areas of assessment is also evidenced by its unique research policies for EMR and IMR funding, incentive structures, consultancy initiatives, and collaborative projects with State, National and Global funding agencies like Indian Council for Medical Research ICMR, National Human Rights Commision, AICTE, Royal Academy of Engineering, European Union among others. Additionally, the University's efforts have also made a significant contribution to the State and National innovation ecosystem with start-ups, in-campus and city-based incubation centres, along with innovation facilities such as its unique fabrication laboratory. Through its internationalisation efforts, Parul University has made exemplary strides in its student and faculty mobility programs with 58 global partnerships, and its unique student diversities with students from 68 countries.
To further the scope of healthcare through holistic care, the University's 7 NABH teaching hospitals have been effectively catering to the healthcare needs of the communities while acting as platforms for clinical training. "We have been focusing our efforts towards providing the highest form of enrichment to our students while at the same time ensuring the capacity building of our faculties through distinct academic establishments which include our skills and simulation centre, Pragya, our fabrication laboratory, DISR recognised research & development centre, NABL accredited medical clinical lab, Industry linked centres of excellence, among other resources. This A++ accreditation is indeed a stamp of quality for the collective strides made towards delivering the highest quality in education", said Dr. Geetika Patel, the University's Vice President, Quality, Research and Health Sciences.