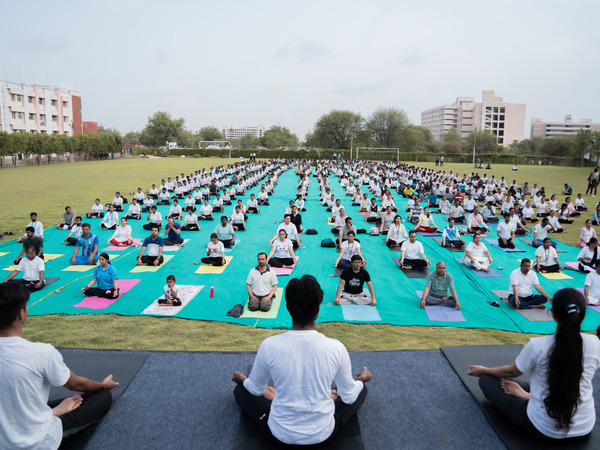 The 21st of June is widely celebrated as International Day of Yoga which is a day that aims to raise awareness worldwide of the many benefits of practising yoga. As per its regular custom, PU's Faculty of Physiotherapy organised two events designed to promote wellness and healthy living in collaboration with the Social Responsive Cell and the University's Women Development Cell. In effort to support the initiative by India's Prime Minister Narendra Modi, the events were in line with this year's theme of "Yoga for Vasudhaiva Kutumbakum" which means Yoga for the betterment of one world one family.
At first a yoga session for children from nearby villages led by the experts of the Faculty of Physiotherapy was organised. The young ones gathered their mats in the morning hours as they were taught a variety of yoga poses and exercises, which will help improve flexibility, reduce stress, and promote their overall health. The session was a great success, with many of the children expressing interest in continuing to practise yoga.
The second event was about PhysioYoga for postural health with a significant presence of Dr. Nilima Patel, a member of Indian association of physiotherapy. Dr. Nilima Patel is the author of the book "Yoga & Rehabilitation" and has been awarded with several honours including Physio Ratna Award (2015 & 2020) and Women Empowerment Award (2021). She has been invited for numerous seminars and webinars from academic and Social Organisations. The session was attended by various members of all the faculties of Parul University.
This ancient practice has been known for its holistic benefits such as creating a balance between the mind and the body also helping to overcome stress. PU continues to engage its students and members in yoga and other activities which are a vital key in reducing physical inactivity that is associated with non-communicable diseases such as cardiovascular malfunctions, cancer and diabetes.