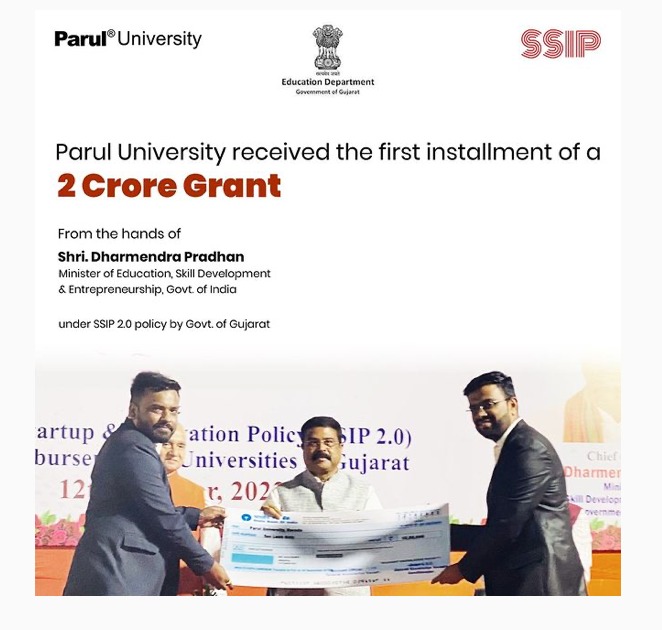 Being ranked 19th among the top global startup hubs in 2021, India has continuously developed more significant avenues. Inspired by this positive change, PU has made Innovation and technology to be at the core of the institution. With this in mind, the university recently received its first installment of the innovation grant from the government of India. The installment was from the 2 crore grant that aims to support innovative young minds in their journey of building startups. The university's members were privileged to receive the grant from Shri Dharmendra Pradhan, minister of education, skill development, and entrepreneurship.
Parul University has been contributing to the growth of the country through various strides aimed at stimulating the youth to create new opportunities for themselves. Overmore this grant was awarded under the student startup and innovation policy 2.0 which will go a long way to ensure that the ideas of young leaders are nourished and will promote growth. Parul University has been providing exposure to its students through its entrepreneurship cell by assisting them through every step to make them successful in the startup world. The areas of assistance under this grant include capital assistance which is aimed to assist aspiring entrepreneurs to start their own businesses, mentoring assistance, operating assistance, assistance or procurement of software, incentive on power tariff, and electricity duty.
PU recently Inked an MoU with Gujarat Knowledge Society, having its registered office at Directorate of Technical Education (DTE) for the SSIP 2.0. The innovators and researchers at the university funding in the amount of Rs. 40 lakh each year for the following five years under the SSIP scheme. The goal of the SSIP is to create a student-centric innovation and pre-incubation ecosystem for students and innovators, foster an environment where creativity can flourish, and establish an end-to-end support system in educational institutions that will enable ample support for ideas for better execution. It also aims to support prototype development, patent filing, support workshops, conferences, capacity building, and technology reforms, and to establish a common platform to showcase, support, and advance technology.
In addition to these milestones, PU's 124 project was supported with more than 80 lac rupees under the policy's 1.0's Various Initiatives for Student Startup and Innovation.
"Our joining forces with the government would definitely strengthen the Innovation and Entrepreneurship Culture in the University and I am confident our students and researchers will establish strong benchmarks in our state." shared Dr. Devanshu Patel, president of PU.