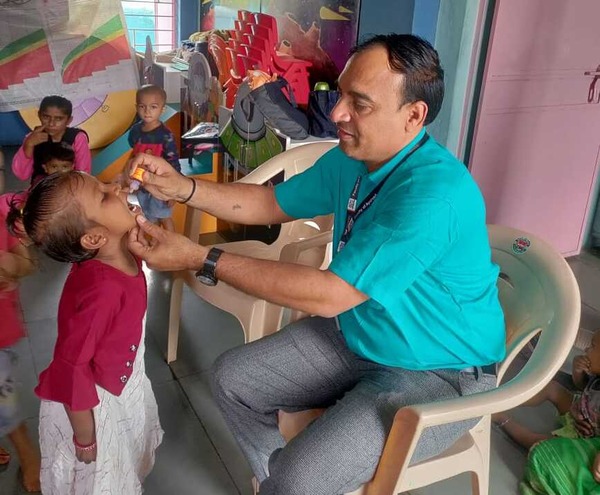 Vadodara's Parul Institute of Ayurveda and Parul Institute of Ayurveda & Research have not only been equipping students with quality education but have also been instilling within them a heart to serve society. In an effort to give back to the communities, the two institutes jointly organized a Suvarnaprashan program for 4,030 children together with Waghodia's Department of Kaumarbhritya(Paediatrics). Suvarnaprashan is described in kashyapasamhita in ayurveda to boost the immunity of a child It is given to children from birth to 16 years of age to improve immunity and memory. The ingredients of suvarnaprasan are suvarnabhashama Ayurvedic herbs ghee and honey. It is important if it is given to children once a month on the day of pushpanakshatra. By giving suvarnaprashan, the child's digestive power improves, intelligence increases, strength increases, Improves digestion, improve immunity and memory.
During this program, the children from the OPD and IPD in both the hospitals,various schools of Waghodia, Anganwadis' and from special camps of suvarnaprashan were benefited with suvarnaprashan . children got additional benefits regarding the health checkups, and health awareness as well as food rituals. In this suvarnaprashan program, kaumarbhritya department's,Dr. Sreevisakh, Dr. Arunraj G R, Dr. Anup Sasikumar, Dr. Pina Patel, Dr. Bharti Changle, Dr. Dipika Survase, Dr. Kavya Mohan, Dr Jaydev Gehija, PG.Scholar and 25 intern doctors rendered services and made the program a success benefiting more than all the children.
The program was made successful through the guidance and leadership of the Dean of Faculty of Ayurveda, Dr. Hemant Toshikhane, and with the inspiration of Principal Dr. B.G Kulkarni alongside Dr. Swapnil Raskar and Dr. Sunil Changle, Head of Department of Kaumarbhritya. The institute believes that preventative medicines are the key to the nation's health hence these efforts will go a long way to ensure that the incidence and prevalence of diseases amongst children is kept at minimal rates.