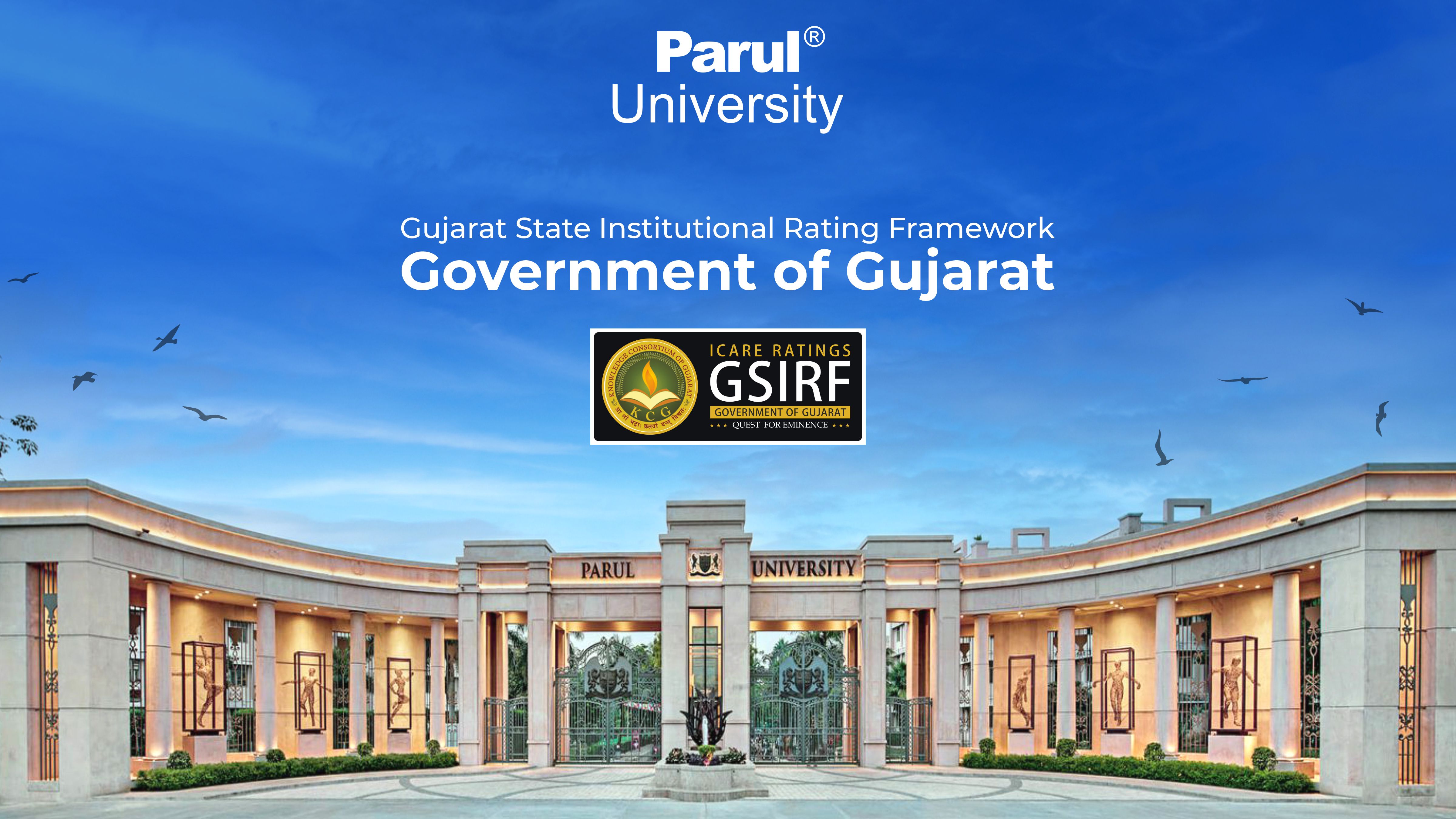 The true hallmark of an institution's excellence is judged by the rankings and awards it has received over the years. Such awards and rankings act as the true marks for quality assurance which guarantees the academic future of the students. Parul University has been continuously recognized by various prestigious government and private, national and international organizations, the most recent of these awards being the GSIRF Ranking by the Department of Education, Government of Gujarat.
Parul University and many of its institutions have been ranked amongst the best higher education institutions in the State of Gujarat according to the recently released GSIRF rankings for the year 2021. The Gujarat State Institutional Rating Framework (GSIRF) is given by the Knowledge Consortium of Gujarat (KCG) along with the Indian Centre for Academic Rankings & Excellence (ICARE). ICARE is regarded as one of the most trusted and credible ranking authorities for higher educational institutes in India, making this achievement even more significant. This achievement is a mere indication of the strides of education which the University has made in catering to the education needs of the State of Gujarat.
All the institutes of the State of Gujarat are objectively audited, assessed and ranked annually under the GSIRF criteria of research, professional practice, teaching learning resources, graduation outcomes and outreach and inclusivity. This year, Parul University has emerged among the top Universities of the State with an overall rating of 3 out of 5 stars, making it the Best University in Vadodara and one of the top 10 Universities in central Gujarat. Going further beyond this, many institutes of the University have also received numerous notable ranks in numerous categories.
According to GSIRF, Parul Institute of Management & Research, with 4/5 stars, stands among the top 5 management colleges of Gujarat largely due to its faculty‐student ratio, quality of research publications, placements and diversity.
Parul Institute of Architecture & Research, with 3/5 stars, is one of the top 5 architecture colleges in the State, scoring full points for student strength and faculty ratio with other good contributing scores in diversity and lucrative salary of graduates.
Parul Institute of Engineering and Technology, with 4/5 stars, is ranked among the top 10 engineering colleges of the country, owing to its extensive teaching resources, research, diversity and impressive graduation outcomes.
Parul Institute of Pharmacy is also included among the top 10 pharmacy colleges of Gujarat having 3/5 stars with fitting scores in all the four criteria of judgment. Another faculty that has a noteworthy rating is Parul Institute of Applied Sciences that scored 3/5 stars, for its excellence in Science Education.
These rankings are testament to the fact that Parul University is setting benchmarks in higher education in the State of Gujarat by providing quality education which ensures the inclusion of all aspects for the comprehensive development of students.