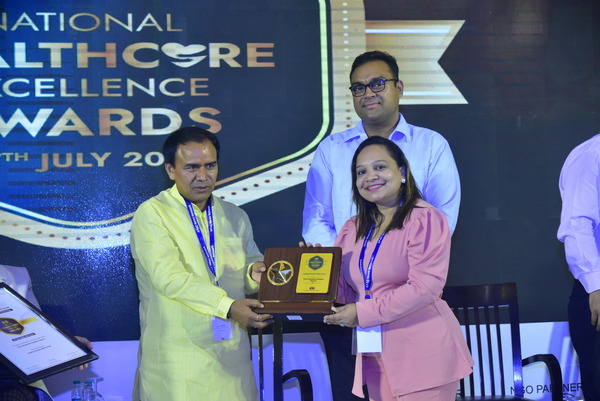 Parul Sevashram Hospital was recently recognised and awarded as the Leading Hospital in the Western Zone at the National Healthcare Excellence Awards, organised by APAC News Network, New Delhi during the National Healthtech Innovation Conclave. The super speciality hospital has been dedicated to its vision of ensuring Universal Health Coverage, and they have successfully achieved this by providing quality medical services at a cost affordable for all. The conclave focused on recognizing the hospitals across India for their innovations, patient satisfaction and management; which also included hospitals from Gujarat like U.N.Mehta for Best Cardiology Institute and Civil Hospital Ahmedabad for Best Dental Practices, to name a few along with Parul Sevashram Hospital. The award was given away by the hands of Dr. Dhan Singh Rawat, Hon.Health Minister, Uttarakhand and Dr. Deepa Malik (Padma Shri, Khel Ratna and Arjuna Awardee).
The hospital's Chief Operating Officer Ms. Ekta Modi received the award on behalf of Parul Sevashram Hospital. Additionally, she was also felicitated as one of the speaker panellists among other leading hospital's speakers for the discussion on Healthcare 4.0; Digital Hospitals of Future, Transformation of Patient Experience & Operations Management. Parul Sevashram Hospital is the first paperless medical college hospital in the country making a smooth patient's journey in hospital and achieving high levels of patient satisfaction. "Our hospital's digital transformation (aligning with the Digital India vision of Hon. Prime Minister Shri Narendra Modi) and quality achievements have led us to this award", mentioned Dr. Geetika Patel (Medical Director at Parul Sevashram Hospital).
Parul Sevashram, which is also affiliated to Parul Institute of Medical Sciences & Research, has been making groundbreaking contributions to the scope of healthcare in the country by recording some of the most challenging surgeries performed in its operation theatres. The hospital is also equipped with a team of high skilled surgeons, medical technicians, nurses and other experts. Owing to some of the breakthroughs achieved till date in the centre is the state of art facilities and advanced equipment available to enhance patient care as well as to save lives.