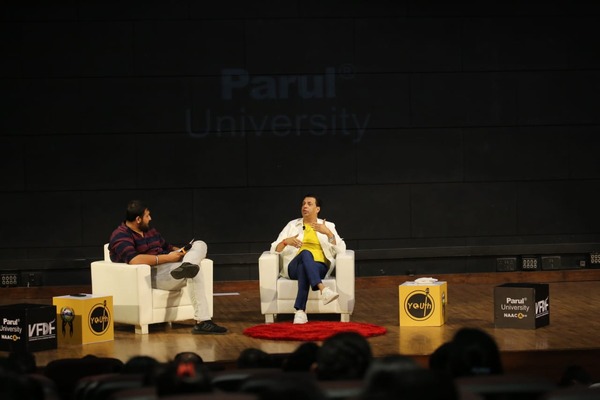 With each passing day, vadodara film and design festival continues to be a platform of great film inspiration with a latest feature of Madhur Bhandarkar who graced the platform for nurturing the young filmmakers. Madhur is an Indian film director, script writer, and producer who has won multiple international and national awards. In 2016, Bhandarkar was honoured with the Padma Shri, the fourth highest civilian honour, by the Government of India. Amongst his other achievements, He is also a five-time National Award winner and his visit to Parul Institute of Design, marks yet another of his efforts in promoting future talent in the film industry.
The renowned film director spread inspiration to the upcoming talent by reflecting on his journey which began with distributing cassettes in Mumbai and ended with the great success which he preaches today. He believes that art has no boundary, it connects people together while bringing meaningful lessons to the audience. The National Award-winning Director advised students to always have a backup plan and complete their graduation first. He also got candid about how he survived in Bollywood after his debut film-directorial did not do well at the box office. He said, "Things certainly got tough for me but I have a fighting spirit. I don't give up easily. I want to take a moment and tell every student present here that no matter which field you choose in life, never lose the spirit!"
The Vadodara film and design festival aims to inspire the youth who have potential to be the next big names in the industry to boldly express their talents without looking at the barriers. The platform encourages the young film makers to use their background to tell their story and bring some of the pressing issues of society to light.
One of the major highlights of the festival was to allow the participants to showcase their short films in the presence of the experts. In this, their art received constructive and expert advice which will enhance their skill sets in the future. His talk and expert session allowed the students to sharpen their skills and abilities and build on their capacity in film production and they received notable insights from the renowned filmmaker.