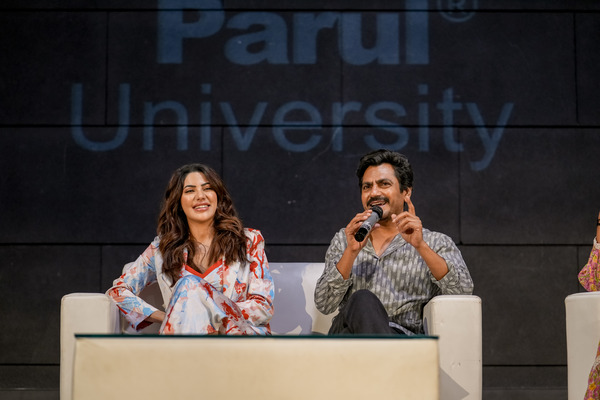 The city-based PU has always aimed to provide a holistic education to the students by offering them exposure to all fields. The University brings together eminent personalities from all walks of life to inspire and encourage students to pursue their creative potential with this time around bringing to the campus the cast of Jogira Sara Ra Ra, led by the renowned actor Nawazuddin Siddiqui. Over the years, the University has put in efforts to promote the importance of arts and culture to encourage creativity and expression among young individuals. The presence of such prominent artists in the campus was truly an inspiration for all the University's students, particularly the performing arts and filmmaking aspirants.
The legendary actor Nawazuddin Siddiqui was recently spotted in the town promoting his upcoming movie 'Jogira Sa Ra Ra Ra.' On returning to Vadodara after almost 30 years, he said, "I still remember working at the Petrochemical company as a Chemist here, I used to go to study when it was time and I stayed in the hostel. I know every street of Central Vadodara very well." The 'Kick' actor also urged the audience to only watch his movie in the theatres as the experience of watching a movie in a cinema is larger than life.
The actor was accompaneied by the actress Nikki Tamboli who has done a song with him in the movie. While talking about her song experience, she said, "At first, when I got this offer, I thought this was a prank call as I don't come from the cinema background. I disconnected the call right away, as I never imagined I would get such a big opportunity, that too with Nawaz Sir. But eventually when it happened, the experience turned out to be absolutely amazing!"
Nawazuddin Siddiqui, a critically acclaimed and versatile actor, known for his work in Bollywood for his roles in Gangs of Wasseypur (2012), The Lunchbox (2013), Raman Raghav 2.0 (2016), and Manto (2018), among others. As many as eight films in which he features have been screened at the Cannes Film Festival. The actor has won several awards, including a National Film Award, an IIFA Award, and two Filmfare Awards, as well as a nomination for an International Emmy. Jogira Sara Ra Ra is an upcoming Indian Hindi-language romantic comedy film. The film stars Nawazuddin Siddiqui and Neha Sharma, alongside Sanjay Mishra and Mahaakshay Chakraborty in supporting roles.
His visit to the Parul University campus to interact and engage with students to discuss and talk about his upcoming romantic-comedy film, Jogira Sara Ra Ra was a unique and inspiring experience for the students. He also touched on the various aspects of the film industry, his personal experiences and stories, and gave some motivation to the students aiming to become the next generation of filmmakers. Nikki Tamboli (Big Boss 14 Famed & 2nd Runner-Up and actress who primarily works in Telugu cinema, Tamil cinema and Hindi television, from the movie cast also was present for the student interaction.
Arts has always been a powerful tool to positively impact students' self-confidence, creativity, enthusiasm, and communication skills. With the rise in popularity of films with a message and growing interest in the glamor world, Parul University has created a platform to invite renowned personalities from the film industry to provide insights to film and design students on the world of movies, film-making process, and everything in between.