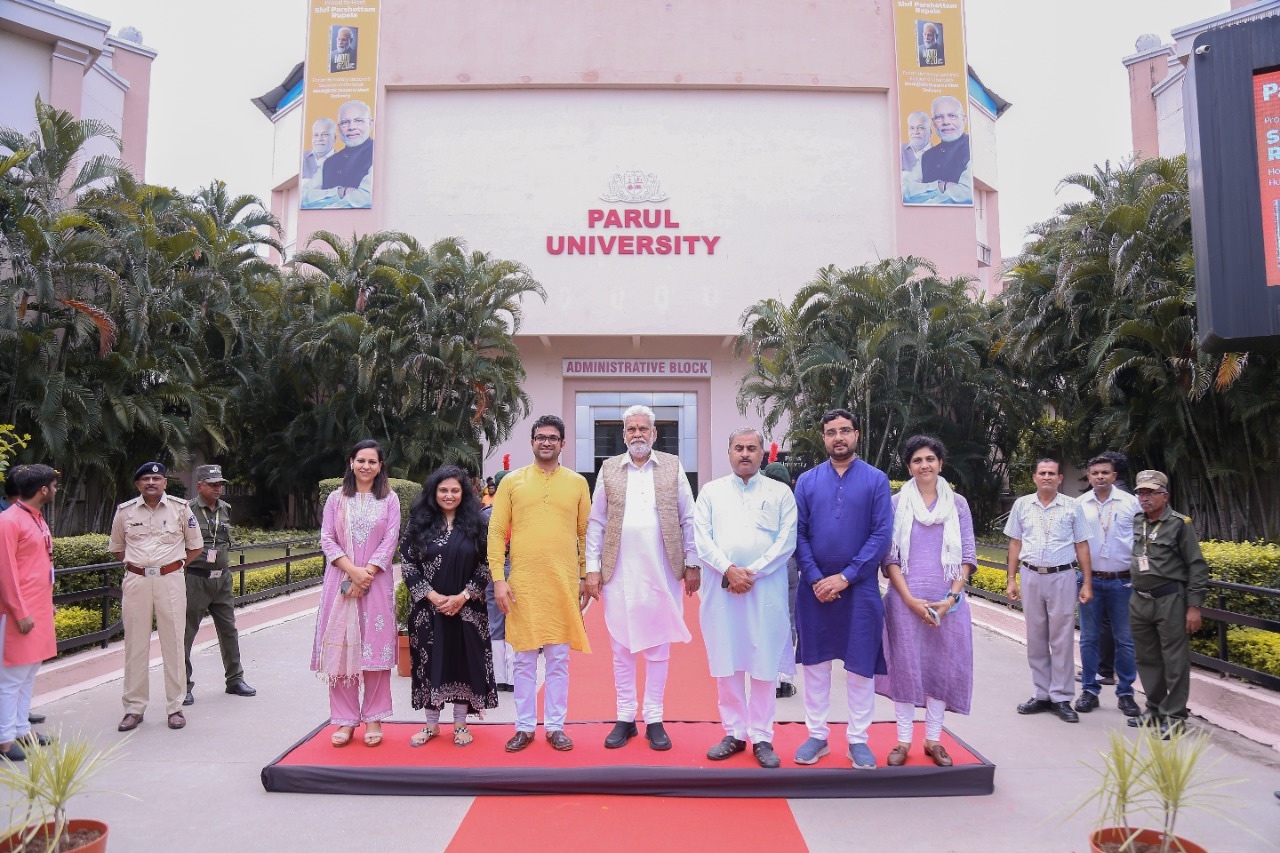 Vadodara recently welcomed one of the nation's most iconic leadership governance personalities, the Honorable Minister of State for Agriculture and Farmers Welfare, Shri Parshottam Rupala who visited the PU early Saturday to deliver a special address on the occasion of the release of Modi @20, a book publication tracing the evolutionary leadership of Hon'ble Prime Minister Shri Narendra Modi. The University's students and a faculty audience had the privilege of listening to this exceptional personality who has been known for his noteworthy policies and reforms which have transformed the State as well as the Nation, as he narrated the seemingly poetic and outstanding achievements of Prime Minister Narendra Modi, which have transformed India and Impacted the world.
Shri Parshottam Rupala, holds a unique record of national service working from the foundational levels of governance and rising to senior level positions at the district and state levels, achieving milestones throughout his journey. From being a Rajya Sabha member of the BJP to becoming the president of the Amreli district Bharatiya Janata Party from 1988 to 1991 and also serving as an MLA from Amreli. He went on to serve as a cabinet minister in 1995 and 2001 and in 2019, Shri Rupala became the Minister of State for Agriculture and Farmers Welfare. During his visit to the University's campus, the honorable guest spoke on the subject "the struggle of life from the analysis of the book Modi @20" highlighting the significance, impact, development and recognition of Modi name has brought to India as a nation and particularly to Gujarat.
Through his narrations of the teaching in this book, Shri Parshottam Rupala shed his unique perspective on the inspiring life and poetic journey of Shri Narendra Modi that has led to the creation of today's youth and the future of India. With multiple notable personalities contributing to this piece of literature, the coming generations will have with them a point of reference as to the outstanding personality of the Hon'ble Prime Minister, who has acquired honesty, entrepreneurship, patriotism, fraternity, immense confidence, and immense trust from the nation and the world at large.
"We are truly honored as a university to be hosting Shri Parshottam Rupala and to be a part of this historic moment in India's governance. I am confident that such an experience will bring great inspiration to our students and faculty members to strive to work hard towards national development" said the University's President, Dr. Devanshu J Patel.