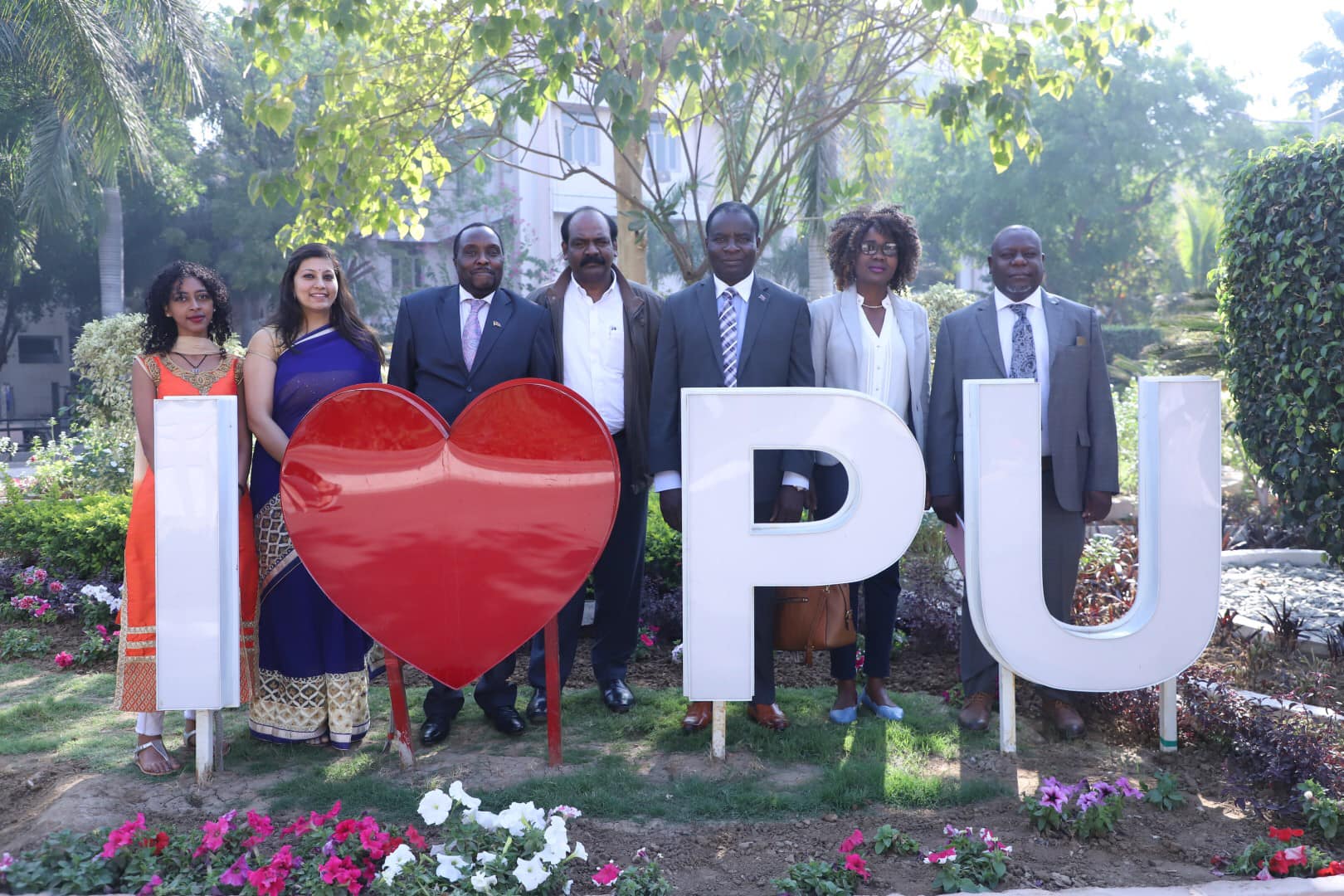 With its drive towards impacting the scope of education beyond the national boundaries, the Gujarat based PU has taken the progressive step of extending its educational reach to the African continent. On the 31st of January, a delegation from the Malawi Government under the Department of Human Resource Management and Development visited the PU's Vadodara campus to discuss possible avenues of corporation regarding the field of higher education. The full day visit included a tour of the 125 acre campus along with the inspection of its state of the art educational facilities.
The highly esteemed delegation was consisting of Mr. H.R. Chimota, Principal Secretary for Human Resource Management and Development, Department of Human Resource Management and Development, Mrs R. Maleta, Deputy Director (Human Resource Planning), along with Mr. E.T. Wochi, Director of Human Resource Management and Development and Chairperson of the Public Service Training and Scholarship Selection Committee, Office of the President and Cabinet. In representation of the government of Malawi, the high ranking officials successfully arrived at a point of understanding with the University officials represented by the Provost , Dr M N Patel and Managing Trustee Dr Parul Patel.
Continuing its open arms policy for African students the University has been gradually expanding its reach and influence within the continent. As a result of this expansion there are more than 800 students from Africa currently undergoing their studies in various fields of engineering, law, business and arts, while at the same time exploring the rich essence of the Indian culture. In addition to this, the newly made agreement with the government of Malawi will provide opportunities for the civil servants of the country to enhance their higher education at Parul University. Such an initiative will go a long way in promoting and enriching the nation's educational and economic growth as well as strengthen its ties with India.
"It is by all means a privilege for us as a University to be entrusted by the government Malawi, to lend a hand in educating and training their civil servants. Our vision for African and the students within the continent goes in line with our agenda for globalisation, as we are continuously seeking to educate not only the nation of India, but the world at large, while at the same time promoting Indian education" said Dr Parul Patel. The admission procedures will be expected to commence in the coming season, with the civil servants studying the various undergraduate and postgraduate programs of the Parul University.
The University's Director of International Students Affairs Prof Sonika Mishra shared that "Throughout the year we always welcome visits from various government and high commision officials from all over African, and such a reception is centred on our need to provide the Indian educational experience for these students, to ensure not only their personal growth but the growth of their nations.