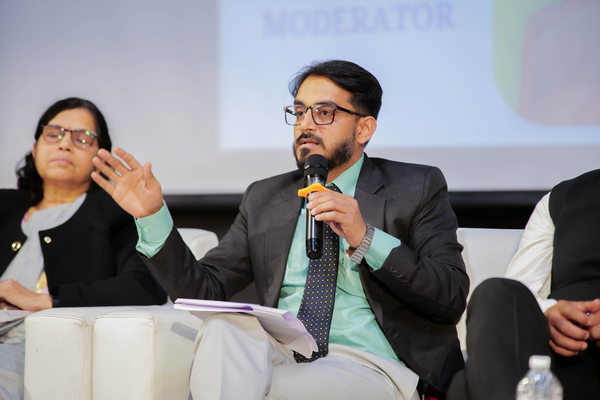 In today's world, where digital technology has become the new spark for innovation, there is a greater demand for skilled human resources to keep the momentum. In light of this, PU's Faculty of Management recently hosted the 3rd edition of the international conference on Digital Transformation. This year's focus was on leveraging emerging technologies. The conference highlighted the importance of technology, digital adaptation in today's world, and how digitalization is taking place in modern business environments in an effort to create an educative platform on blending human and technical capabilities.
The two-day conference brought together experts from around the world to share their knowledge. It was made up of online as well as offline engagements which included expert sessions, panel discussions, technical sessions, and poster presentations. Mr. Vilas Tawde (Ex-CEO & MD of Essar Oil and Gas Exploration and Production Limited (EOGEPL), Mr. Soumyajyoti Guha (Manager, National Stock Exchange India Ltd.), and Mr. Amit Khombhadia Circle Business Head, Western Region, Ujjivan Small Finance Bank, were among the key speakers on the platform
Panellists the likes of Dr. Mamata Mahapatra, Professor, Centre Head of Organisational Psychology, Amity University, Noida, Dr. Akash Midha, Assistant Professor, School of Allied Health Sciences and Management, DPSRU, Delhi, Mr. Mahesh Pandya, Senior Executive, Investor Protection Fund, Bombay Stock Exchange, BSE, Dr. Harsha Jariwala (Assistant Professor, Finance and Accounting Area, Mr. Vikas Tembhare, Founder & Managing Partner, DTORR, Ms. Piyalee Chatterjee Ghosh, Founder Director, MyFledge Aviation Pvt.Ltd., Mr. Karni Singh Shekhawat, Marketing Manager, Amul Panchmahal Dairy, Godhra, and Dr. Ajay Bhardwaj, Assistant Professor, Amity School of Hospitality, Jaipur.
A total of 200 abstracts were received, with 65 papers presented by delegates from various universities in the areas of entrepreneurship challenges in digitalisation, the impact of corporate governance on financial performance, digitalisation in the MSME sector, AI and chatbots in the banking industry. Experts from multiple higher educational institutions and more than 20 of Parul University's Ph.D. scholars presented online track papers including international scholars from countries like Ethiopia. The conference was also virtually chaired by international speakers such as Dr. A.K. Nair, Assistant Professor in Strategic Management, Liverpool Business School, London, UK, Mr. Kasi Ravindran (Chief Operating Officer (COO), SAP, Labs, Pennsylvania, U.S.A, and Mr. Rajkumar, Senior Manager, PayPal, Singapore among others, who shared their perspectives online.
As associate partners, the conference was supported by Ujjivan Small Finance Bank, ISTD Vadodara Chapter, Baroda Management Association, Brahmaputra Jungle Resort Assam, DTORR, and My Fledge Aviation. In total, 17 students presented papers, expressing the University's unique focus and orientation towards research and knowledge in multiple sectors.