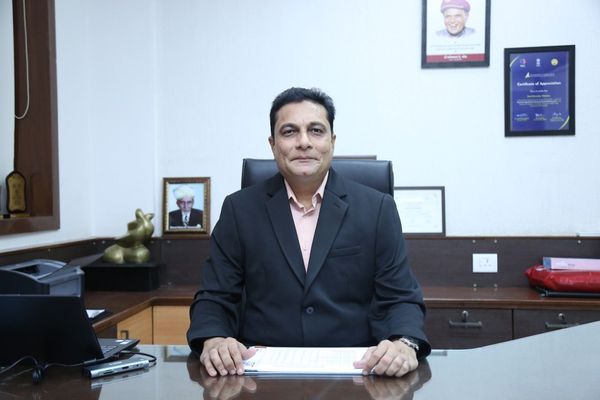 Continuing its journey of leadership excellence, PU recently welcomed its new Provost, passing on the baton from its outgoing Provost Dr. M.N Patel a renowned personality in the academic fraternity, to Dr. Amit Ganatra, one of the leading names in higher education. To mark this prestigious moment in the University's history, a swearing in ceremony was held where Dr. Ganatra took the oath of office before the outgoing provost and members of the University's senior management and administrative bodies. During the ceremony, the University's President Dr. Devanshu J Patel & Pro Vice Chancellor Dr. H.S Vijaykumar commended the efforts and contributions of the outgoing provost Dr. M.N Patel during his two term tenure heading the University.
The now provost of the University, Dr Amit Gantra in his 22 years of academic service, possesses a wealth of experience in technical and higher education. Throughout his career, he has made significant contributions in the higher educational sector, heading various prominent institutions across the State, while acting as an advisor to other institutions and academic boards towards developing quality in education. Over the years, he has made continuous contributions to the scope of research and innovation and has received honorary awards including the achievers award, the best digital transformation in the education sector at GESIA IT awards, and also holds a fellow membership in the International Research Organization for Science, Engineering and Technology. In addition, Dr Ganatra is also a member of IEEE, ACM, and CSI professional society chapters. He has also been known for his contributions to the academic knowledge bank through his authorship of 130+ research publications and his supervision of over 100 industry projects, 100+ dissertations, and 12 Ph.D. research scholars.
"I am truly honoured to be a part of PU and I believe that we will be able to go a long in achieving greater heights for the University across all spheres and as long as we work together, we will surely develop the future careers of our students and the many youths across the nation", shared Dr. Ganatra. The University continues to strive towards achieving its vision of developing th scope of research, innovation and entrepreneurship, placements, internalization amongst its initiaves. "We are delighted to have Dr. Amit Ganatra as a part of our University's administrative body with his expertise, and I believe our collective efforts will go a long way towards establishing Parul University as a leading University in all fields", said the University's President, Dr. Devanshu J Patel.