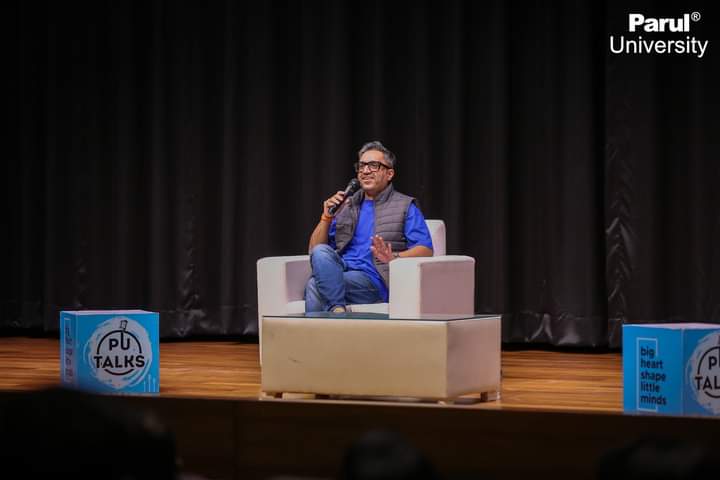 City-based PU often stays in the headlines for going above and beyond to create an atmosphere for their students that is enriching and learning. PU talks is one such motivational platform where students of the university can llearn from the life stories of esteemed personalities. The latest individual to grace the stage of PU talks was Mr. Ashneer Grover. Known for being the shark at the Shark Tanks, he is also a former MD and Co-founder of BharatPe.
During his interactive session, he candidly answered all the questions asked by the students. He talked about his entrepreneurial journey, life experiences, and views on the Indian start-up ecosystem. He went on to say how much he admires entrepreneurs who build their businesses without the help of any investors. He was found saying he has a lot of respect and regards for entrepreneurs like Nikhil Kamath and Divyank Turakhia.
Reminiscing about his experience of visiting the San Francisco Facebook headquarters, Mr. Ashneer Grover said, "I saw three Indian restaurants in that one office only so you can imagine how many Indians must be working there. We have the best engineering brains. The next two decades are going to be dominated by Indians and our economy is going to witness phenomenal growth."
On being asked how did he decide to be an entrepreneur, he replied, "I come from a service class family. All my family members were having a job, and I myself have had a job for 9 long years of my life. When I was working at Kotak, my job was to deal with entrepreneurs and that gave me a lot of exposure. You can never learn entrepreneurship. All that exposure came in use for me when I jumped into entrepreneurship."
The one-hour talk session ended with Dr. Geetika Patel (Medical Director & Governing Body Member, PU) presenting him with a memento as the university's token of gratitude. The session shed light on Mr. Ashneer Grover's entrepreneurial journey like never before as he also talked about his other startups PostPe and 12% Club.