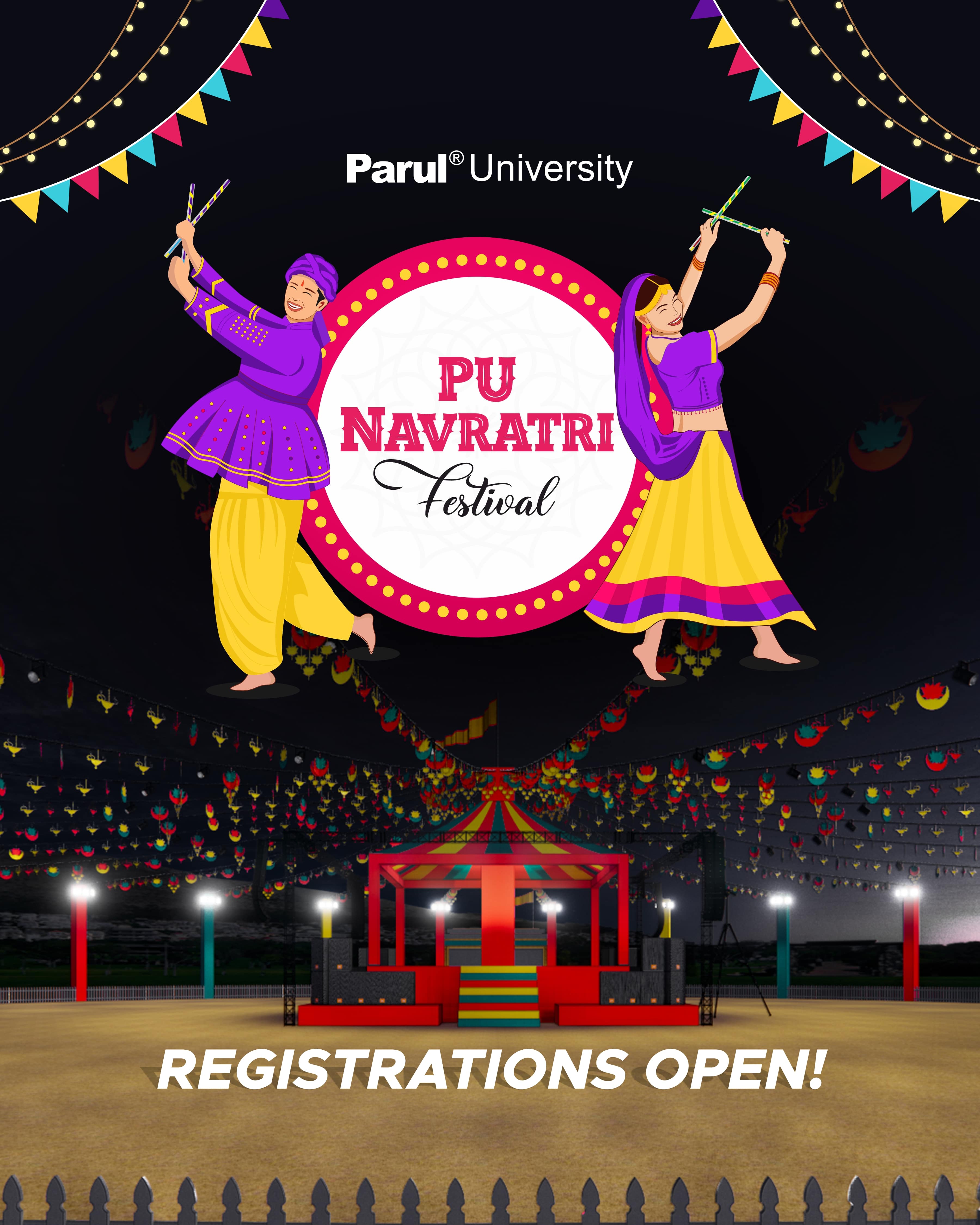 The university has organized Navratri Celebrations from September 25, 2022 to October 05, 2022. A Ratri Before Navratri will be organized on September 25, 2022 and Ratri after Navratri will be organized on October 05, 2022. The said festival will be celebrated at Cricket Ground which is Opposite to Teresa Bhavan-D.
General Instructions:
Students have to pre-register on the below link for participating in the Navratri Celebrations.

Registrations for each day have to be done individually. Entry to the venue will be based on the email confirmation received and the QR Code Scanning. I-Cards have to be worn all the time.

Entry will be permitted on to registered participants dress in traditional wear. Permitted Dress Code For Males: Kediya Dhoti, Pathani, Long Kurta – Pyjamas Permitted Dress Code For Females: Chaniya Choli, Kurti – Leggings/Patiyala. There will be no entry for those who do not follow the dress code stipulated by the university.

Multiple Entry Exits will not be permitted. Once participants have entered the venue, if they wish to exit, re-entry will not be permitted.

Entry to the venue shall begin at 8: 30 Pm and close at 9:30 pm.

Incase participants have registered but not received a confirmation email, the status of the same can be confirmed by writing to eventregistration@paruluniversity.ac.in.

All Mess, Food Outlets and other hangout places at campus will be closed after 9:30 pm. Only participants will be permitted at the venue. Non-participants will have to stay at their hostel rooms. Late night entry to hostels will be permitted only to registered participants.

Footwear will not be permitted on the Garba venue. There will be arrangements of Shoe Racks for males and females for the same.

Transport services will be made available for participants from Vadodara. The same shall be notified on Instagram Handle of the University.
Prizes and Competition:
Apart from Ratri before Navratri, there will be competitions on all 10 days in the categories of Solo (Boys), Solo (Girls) and Group.

Daily theme schedule shall be updated on social media handles of Parul University.
Category 1: Solo Boys & Girls

Price

Boys

Girls

1st

Rs 3000

Rs 3000

2nd

Rs 2000

Rs 2000

3rd

Rs 1000

Rs 1000

Category 2: Group – There can be a group of minimum three or more than three participants (boys, girls or a group comprising of boys and girls)

1st

Rs 2000
Final Competition (Dussehra) on October 05, 2022
Category 1: Solo Boys & Girls

Price

Boys

Girls

1st

Rs 5000

Rs 5000

2nd

Rs 4000

Rs 4000

3rd

Rs 3000

Rs 3000

Category 2: Group – There can be a group of minimum three or more than three participants (boys, girls or a group comprising of boys and girls)

1st

Rs 5000

2nd

Rs 4000

3rd

Rs 3000

Registration Link for Day Wise Regirstration
RATRI BEFORE NAVRATRI - https://ease.buzz/202209KufPiamx

DAY 1 - https://ease.buzz/202209yI08dFc6

DAY 2 - https://ease.buzz/202209Ep7RNn4q

DAY 3 - https://ease.buzz/202209tRKGBWRd

DAY 4 - https://ease.buzz/202209KCzNiBJz

DAY 5 - https://ease.buzz/202209KFPE86gn

DAY 6 - https://ease.buzz/202209Z9IKwyFa

DAY 7 - https://ease.buzz/202209aXFBjMxy

DAY 8 - https://ease.buzz/202209zJgb8lhp

DAY 9 - https://ease.buzz/2022090WQIy5NY

RATRI AFTER NAVRATRI - https://ease.buzz/202209D77RklfY